January 26 – March 11, 2007
Opening Reception: Thursday January 25, 4:30 – 8pm
The Laband Art Gallery presents the triennial exhibition of recent work by Loyola Marymount University studio arts faculty. This exhibition features the artwork from the past two years by LMU's ten fulltime studio arts faculty: Michael Brodsky, Jane Brucker, Han Dai-Yu, Rudy Fleck, Dmitry Kmelnitsky, Garland Kirkpatrick, Terry Lenihan, Diane Meyer, Teresa Muñoz, and Fr. Michael Tang. Working with a wide variety of materials, methods, and points of views, these ten artists use their art to make a statement; to take a position. Claire de Dobay Rifelj, curator of the exhibition writes, "Artists hold myriad positions in society: visionary, instigator, teacher... We may wonder sometimes why their art matters... There is a fundamental urge in humankind to make a mark... and it is the artist who manifests this desire." The ten positions championed by the studio arts faculty of LMU demonstrate the means by which these indelible, necessary marks can be made.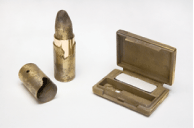 Michael Brodsky mixes digital imagery Jane Brucker's work focuses on collected and photography to explore methods of objects, their installation, and their particular ‌ communication such as television, graphic ‌ individual narratives. In the Lost project ‌ design, and the internet. In asynchronous: (2006) she casts a trove of trinkets in
differential (2006) and depixelized: stasis bronze that are meant to be touched by (2006) he culls images from online video gallery visitors. Brucker believes that the chat rooms and reframes them in a vast frequent loss of these everyday objects field of gray, alienating space. He reminds and the futile searches that ensue are us of the fragility of these virtual connections rehearsals of sorts for the final loss that as well as our daily interactions with others. death forces us all to endure.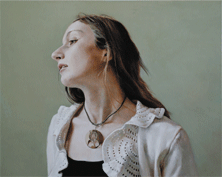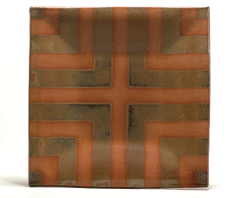 Han Dai-Yu's artistic practice is inspired both Rudy Fleck, a ceramicist, has taken refuge for by western oil painting and by the traditional the past five years in "sympathetic magic" and hiked Chinese arts of ink painting, poetry, and calligraphy. miles of arduous terrain to offset the pain of having These artistic strains run parallel in the artist's work, his son at war. Along these journeys he collected dirt never touching, but always moving forward and and incorporate it into works such as Caliente Ridge growing organically. Dai-Yu takes precise with Cross (2005) which includes dirt taken from the measurements of his subjects in order to translate mountain trail, and votive containers (2001) that he them directly on the canvas as in Tiffany (2005) speckled with gravel from his trip to the Buchenwald and Window (2006). concentration camp.

Dmitry Kmelnitsky creates videos that set ambient, dream-like images to music, which he also composes. Kmelnitsky uses computer editing software to blend abstract and figurative forms, which move in and out of each other poetically. In City and Lover (2006) and Disappear (2006) he explores the body's relationship to its surrounding landscapes and soundscapes, experimenting with both visual and sonic motion.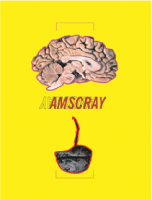 Garland Kirkpatrick uses his graphic design to bring attention to political ideas and causes. With Corner (2006) he illustrates different ways of comprehending a symbol and its meaning by moving graphic information from the poster format to that of the postcard. Printed on posters his image of a syringe covers the wall of the gallery; as a postcard, the design moves with viewers outside the gallery space.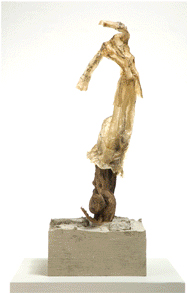 Rooted to the ground, Terry Lenihan's Redwoods sculptures assume positions of equal anguish and elation as they reach upwards, arms outstretched in an act of passionate release. One can connect with them both on a visual level—by recognizing the materials as common objects (tree roots, wire, and tissue paper)—and on an emotional level, by following the arabesque movements of their absorbing dance.
Diane Meyer creates photographs and sculpture, fusing the two into works that evoke the complex relationships between history, landscape, and the people who are found there.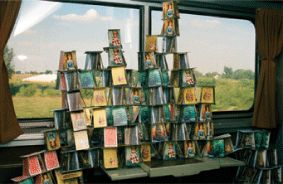 Diane Meyer's recent photographic series examine different aspects of contemporary culture, including RD413 (2006) and MLR743 (2006), from a group of portraits that examine the malaise of young men in a time of war.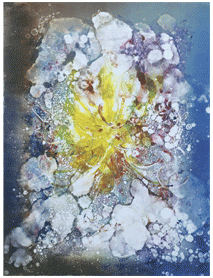 Teresa Muñoz focuses her artistic practice on printmaking, using the medium to capture the fluctuations of natural forms. Also trained as a sculptor, she has continually sought to add texture and dimension to the paper's surface. Her most recent works comprise several layers of reality: actual collaged objects, textured imprints of objects, and abstract patterns that approach recognizable forms but hover in a world distinctly their own.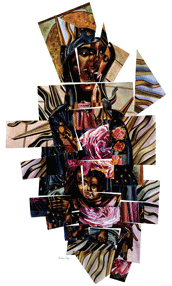 Fr. Michael Tang's watercolors offer a multi-dimensional look at the complex nature of sacred icons. Starting with a collage, Father Tang splices together an image of a religious figure using photographs he has taken, reproductions of paintings, and magazine clippings. He paints the composite image in watercolor, illustrating the various faces and forms that the figure can take on in different cultures and traditions.
The exhibition is accompanied by a 64-page illustrated catalogue designed by Osvaldo Trujillo with an essay by Claire de Dobay Rifelj.