January 25 - March 16, 2014
The Laband Art Gallery at LMU continues LMU's focus on the theme of restorative justice with the exhibition Voices of Incarceration. Art has frequently expressed the toughest and harshest sides of human experience. This exhibition brings together works by incarcerated artists who convey their unique perspectives from inside the prison walls and those of artists who confront the American criminal justice system from outside its walls. Both groups bring to light the emotional costs and injustices of the Prison Industrial Complex. Voices of Incarceration also explores the rehabilitative arts programs in California prisons and the expression of the imprisoned artists' strength and individuality through the creative process.
Featured Artists
Dawn Aldama, Benjamin F. Ballard, Franky Carrillo, Michal Chelbin, Khalifah Christensen, Norma Cumpian, Alyse Emdur, Fajardo, Bruce Fowler, Henry Edward Frank, Juliana Garcia, Daniel Galindo, Ronnie Goodman, Gary Harrell, D. Hill, Nequita Jackson, Shonna Larabee, Felix Phil Lucero, Katya McCulloch, Christina Mendivil, Scott McKinstry, Jack Morris, Brendan Murdock, Keoghan O'Donnell, Launi Perry, Bruce W. Peterson, Adryan Piddington, Sheila Pinkel, Maria Posada, Ameenah Rasul, Bonnie Riley, Richard Ross, H. Serrano, Robert Solywoda, Tafoya, Tenãse, Beth Thielen, B.J. Thorton, Fred Tinsley, Chadrick Tobias, Tan Tran, Darrell Van Mastrigt, Jahmal Ironcoat Wallace, Geno Washington, David Earl Williams, Michael Williams, and other anonymous artists.
From the Inside
If the artistic process is a path to an understanding of oneself and our world, art making is particularly crucial in the prison environment. Time is one of the rare resources that prisoners have in abundance. Art provides inmates with an outlet to positively pass their time while exploring their creativity and expressing their thoughts and feelings. The works in Voices of Incarceration by inmate artists encapsulate a range of themes, styles, and emotions offering viewers some insight into the world behind bars. Artists Jack Morris, Franky Carrillo, and David Earl Williams created their works independent from any classes. Morris, who is currently in solitary confinement in Pelican Bay State Prison innovatively mixes the oil from his peanut butter packet with pastels to make his drawings. Other pieces were made in the context of classes held in prison. The state of California had a vibrant Arts-in-Corrections program from 1977-2010 that brought professional artists/teachers, actors, and musicians into the state prisons to teach and work with inmates. From cyanotypes to pastel drawings, to linocut prints, to paintings, prisoners learned new artistic techniques and gained new insights in the process. In Richard Lovelace's seventeenth-century poem "To Althea, From Prison," he expresses how, though confined behind bars and stone walls, he still has the ability to think and dream. The art in Voices of Incarceration conveys the same message.
From the Outside
Photographer Richard Ross' project Juvenile in Justice focuses on the plight of incarcerated youth caught up in the American justice system. His large format portraits, with faces blurred out for legal reasons, are filled with contradictions. The children, dressed in brightly colored clothing amidst a sterile, cold environment, seem so innocent and so out of place. Ross gives the individual kids a voice by telling parts of their stories in their own words in the accompanying texts and audio. Through his project, Ross has become an activist who is working to bring about change to the juvenile justice system. The exhibition will also include a timelapse video of photographs created by Ross during his twenty-four hours spent in solitary confinement at an unnamed youth facility in the Midwest.
Sparked by the discovery of an old family Polaroid of herself and her sister posing with their incarcerated older brother in front of a painted beach scene, artist Alyse Emdur entered into a collaboration of sorts with inmates across the country. She wrote to men and women behind bars inviting them to send her photos of themselves and their family member in front of hand painted backdrops in prison visiting rooms. Eventually, she also visited 10 prisons and photographed their backdrops and the rooms in which they hung. With her project, she aims to humanize prisoners, to give inmates an opportunity to represent themselves and to be seen by the outside world. It also reveals the extent of control prisons have over the representation of America's prison population.
Over the course of three years, Israeli photographer Michal Chelbin traveled to Russia and Ukraine, the countries of her ancestors, to take portraits of inmates in seven prisons – both juvenile and adult institutions. Her images offer a window onto two other countries' prison systems. We see the commonalities of human vulnerability and pain in her work. Similar, vibrantly painted bucolic landscapes also serve as portrait backdrops in the prisons here. But there are cultural and institutional differences as well, which we find in the furniture, wallpaper, flowered dresses, tattoos, and even the faces.
Artist Sheila Pinkel has recently done a large body of work on the growth of incarceration in the United States. Her art combines statistics, history, and borrowed imagery to reinforce some of the most difficult issues about our justice system that face our society today. In her piece, Made by Prisoners in a California Prison, Pinkel creates a grid of catalogue pages of the surprising and diverse goods made in California prisons from American and Californian flags to office furniture and eyeglasses reminding us how our prison system is a vital part of our economy on so many levels.
The exhibition will also present a video report by Shane Bauer created for Mother Jones magazine comparing Pelican Bay State Prison's solitary confinement to the conditions he endured while imprisoned in Iran.
Lenders to the Exhibition
Franky Carrillo, Alyse Emdur, Ellen J. Eggers, Esq., William James Association, Mother Jones magazine, Katya McCulloch, Carol Newborg, Sheila Pinkel, Richard Ross, and UCLA University Archives, Los Angeles, CA.
Images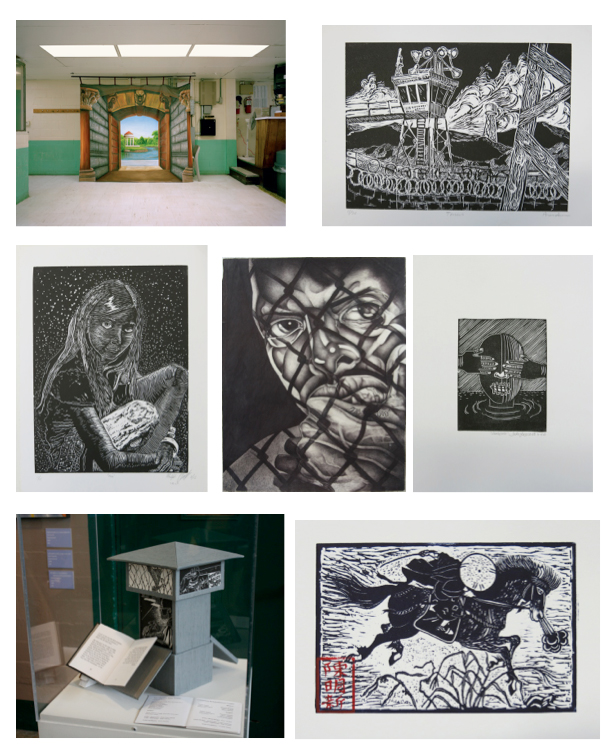 Image Captions: Three Images at Top of Page:Michal Chelbin, Masha and Sveta, Juvenile Prison for Girls, Ukraine, 2009 C-print, Courtesy of Andrea Meislin Gallery; Jack L. Morris, Aztec Eagle, 2010, ink on paper, Collection of Sheila Pinkel; Richard Ross, M.Q. and D.N., Digital Inkjet print, 2013, Courtesy of the artist; Top Row: Alyse Emdur, Backdrop Painted by Darrell Van Mastrigt in State Correctional Institution Graterford, Pennsylvania, Digital inkjet print, 2012, Courtesy of the artist; Brendan Murdock, Towers, c. 2012, linocut, Courtesy of William James Association; Khalifah Christensen, Muse, 2012, linocut, Courtesy of William James Association; David Earl Williams, Fence, lent by David Earl Williams on death row; Felix Lucero, Senseless, 2008, linocut, Courtesy of William James Association; Multiple Artists, Tower Book, 2006-2007, Katya McCulloch Collection; Tan Tran, Horseman, c. 2012, linocut, Courtesy of William James Association.