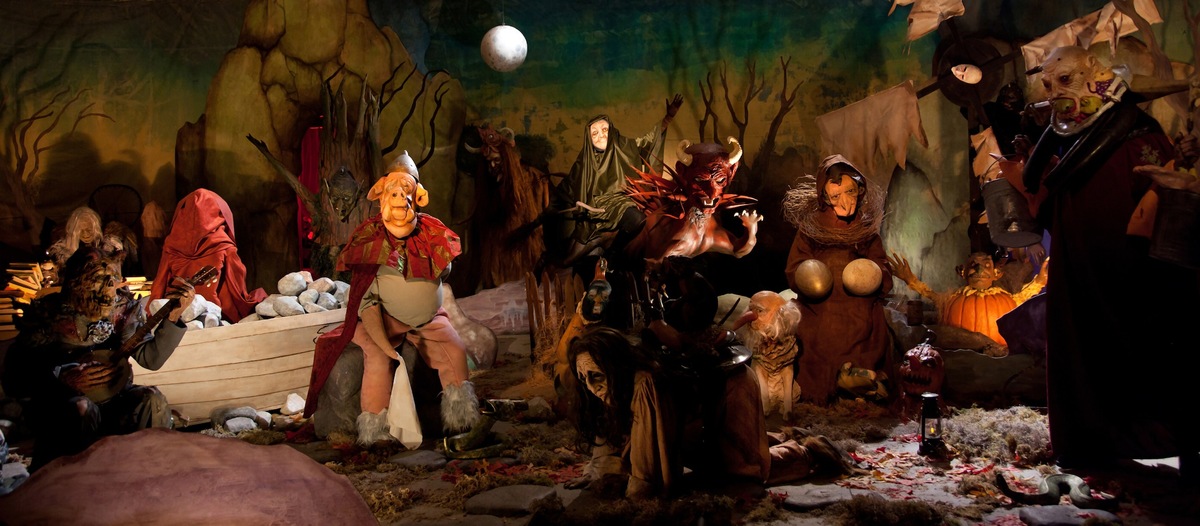 January 21 - March 19, 2017
The Laband Art Gallery is pleased to present Psychopomp, an exhibition comprised of works by thirteen contemporary artists. Psychopomp, a term that dates back to ancient Greece, describes different beings who guide us from one place to another, from the unconscious to the conscious, from life to death. They are tricksters, healers, midwives, shape shifters, and border crossers. One of the most recognizable psychopomps is Hermes, the Greek messenger god of trade, thieves, and travelers. We also find psychopomps in contemporary life. Just as Virgil guided Dante through the circles of hell, modern psychopomps help us navigate through physical and virtual spaces, personal turmoil, and political strife.
Visitors to the exhibition will begin their journey before even opening the gallery's doors. As visitors cross a threshold created by artists Patrick Michael Ballard and Nathan Bockelman, they enter a disorienting space where interactive and immersive works act as guides on a voyage of transformation and self-discovery. Books dating back to the 15th century will introduce psychopomps from mythology and literature, such as Virgil in Dante's Inferno. Sandow Birk's illustrations of Inferno bring Dante's story, into our contemporary world. Mowry Baden's Instrument guides visitors through different levels of consciousness by ushering them physically through a prescribed path while their heads remain in darkness. Michael Carter's paintings, made by the use of a pendulum, make visible invisible forces, and invite the visitor to decode their messages. Daniel Dove's large-scale paintings Lindisfarne and Stella exist in an in-between space, showing structures in states of transition, either half ruined or partially reconstructed. Jennifer Moon and laub, in their video 3CE: A Relational Love Odyssey, take the viewer on an inward and cosmic journey to find love and revolution. Liz Nurenberg's interactive sculptures encourage visitors to engage in close proximity and examine the space between oneself and others. Nick Rodrigues' Campfire, invites the viewer to gather around a digital fire and have a moment of reflection to locate themselves in time and space. Liliana Wilson's paintings depict individuals in the middle of traveling and transformation, bringing awareness to the ways politics can create new boundaries and challenges to overcome. Marnie Weber's video The Night of Forevermore takes the viewer on a journey through eerie mythological worlds inhabited by strange creatures, through the eyes of a teenage girl.
Two performances will also guide visitors into other worlds. Ballard and Bockelman's surreal performance depicts the chaos that ensues between teenagers and a wig, conflating fantasy and reality. Jimena Sarno's sound piece, pluto return, symbolically links this world with the underworld, examining collective and individual fears, and how they influence the way we relate to one another, to authority, and power.
Featured Artists
Mowry Baden, Patrick Michael Ballard & Nathan Bockelman, Sandow Birk, Michael Carter, Daniel Dove, Jennifer Moon & Laub, Liz Nurenberg, Nick Rodrigues, Jimena Sarno, Marnie Weber, and Liliana Wilson.
Organizers
The exhibition is curated by Anthony Bodlović, assistant professor in Loyola Marymount University's Marital and Family Therapy Department, Ana Ruth Castillo and Thilini A. Abeygunaratne, current students in the LMU MFT Graduate Program, and Martha Cowley, Class of 2016 graduate of the LMU MFT Program. This exhibition is co-organized by LMU's Marital and Family Therapy Department and the Laband Art Gallery.
View events related to this exhibition.
Image: Marnie Weber, a film still from The Night of Forevermore, 2012.