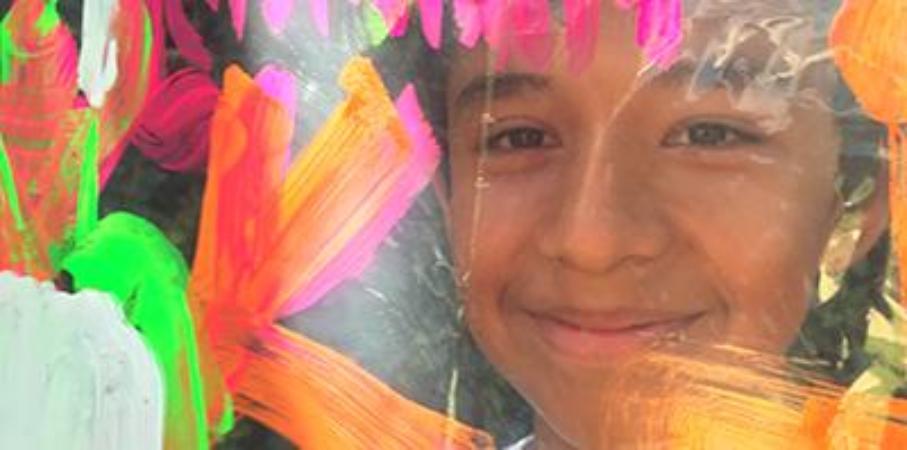 The HBL Art Therapy Clinic has had the opportunity to provide a diverse range of art therapy services in partnership with many reputable community organizations across Los Angeles County.
Art Therapy Services
Summer Arts Workshop
This week-long therapeutic art camp serves middle school and high school students from underrepresented communities. Facilitated by LMU MFT/Art Therapy graduate students, student participants are invited to create unique individual pieces that then become part of a collaborative installation piece at a final exhibition at the end of the week.
Arts & Wellness Programs
During the Covid-19 pandemic, our summer arts workshops transitioned online and included a virtual social emotional art "hub" created by students. Participants videotaped different arts strategies that could be used by other young people in their community and shared them with schools in their district. These "hubs" aimed to increase social and emotional competencies.
Practicum Training for Art Therapy / MFT Trainees
This student training program provides art therapy to underserved populations across Los Angeles with weekly art therapy services facilitated by LMU MFT/Art Therapy graduate students.
Groups for Those Diagnosed with Cancer
These open and closed groups are offered to people who have had a cancer diagnosis. Participants commit to weekly attendance for a set number of weeks. Services can be facilitated both virtually and in-person.
Support Groups for Pregnant and Parenting Teens
These art therapy groups provide opportunities for teens to offer and receive peer support, explore multiple aspects of their identities, and move through personal challenges and practice coping strategies.
Family Art Time
These are monthly virtual drop-in groups offered to families and emphasize how art-making can increase bonding and attachment. They are led by HBL Art Therapy Clinic Clinicians and supported by LMU MFT/Art Therapy grad students.
Art Therapy Workshops for University Students and Staff
This program offers support to those experiencing stress due to transitions- a common theme within universities where students experience the transition into and out of college. These workshops can be offered online and in-person and aim to use the creative process to build community.
Workshops & Team Building
These art workshops are offered to teams or departments to promote well-being through arts-based team building.
Family Art Assessment
This program provides family therapists with a new window into their clients' worlds, through the family art assessment process. HBL ATC Clinicians facilitate sessions while family therapists have the option to observe. Family members are asked to make art together according to the protocol then HBL ATC Clinicians then consult with the family therapist and provide a written report. This process frequently helps the families and their therapists move past challenges where they previously felt stuck.
Community Partners
Below find current and past community partners, listed alphabetically.
Barbara Sinatra Children's Center
The Barbara Sinatra Children's Center provides individual, group and family out-patient therapy along with special programs that address issues associated with children suffering the affects of child abuse and neglect, and who are at risk to be abused.
Catholic Schools Collaborative (CSC)
The CSC is an innovative 501(c)(3) nonprofit organization created to bring multiple schools, third-party partners and multiple funders together to build the academic and operational capacity of some 60 Catholic TK-8 schools that serve Los Angeles most under-resourced communities. More info
Cedars-Sinai Cancer Wellness, Resilience and Survivorship
The Wellness, Resilience and Survivorship services at Cedars-Sinai supports cancer patients in coping and building mental and physical resilience for managing a cancer diagnosis. More info
Central Juvenile Hall High School
Central Juvenile Hall High School is a public high school of the Los Angeles County Office of Education School District.
LMU College of Communication and Fine Arts (CFA)
The CFA provides LMU students with a humanistic liberal arts education that fosters a desire for knowledge, cultivates the skills for lifelong learning, and instills leadership and service to create a just world. More info
Martin Luther King Community Hospital (MLKCH)
MLKCH provides maternity, critical, inpatient care and primary & specialty care in outpatient offices throughout South LA. More info
Thomas Riley High School (TRHS)
TRHS is an alternative high school that serves pregnant, parenting, and middle school and high school students facing adversity ranging in ages from 12 to 19 years old. More info
Past Partners:
Airport Marina Counseling Center
American Red Cross (ARC) Los Angeles
Boys and Girls Club of Monrovia
Daniel's Place
Free Arts for Abused Children
LMU Family of Schools
New Directions for Veterans Program at Veterans Administration
Orville Wright Middle School
Save the Children
University of California, Irvine Veteran Services