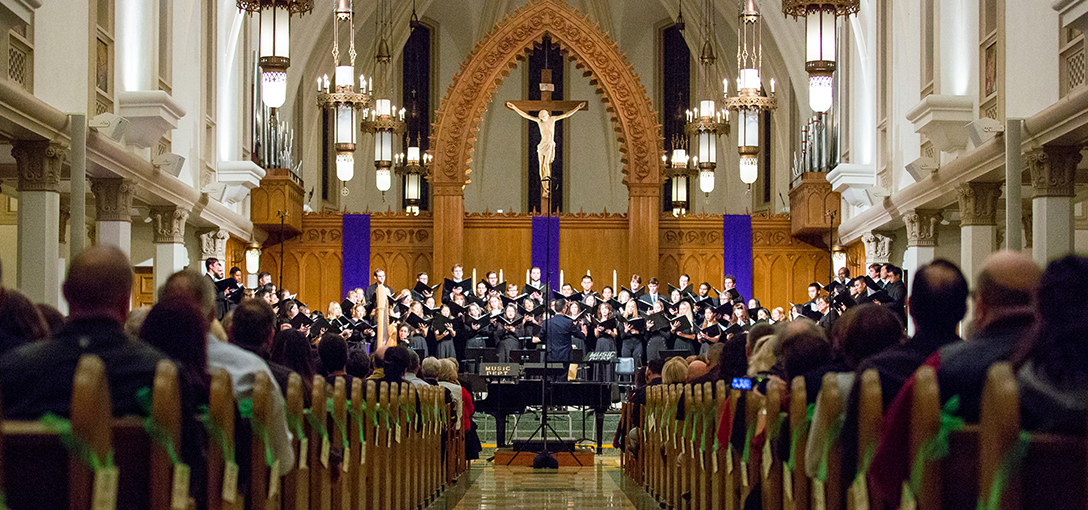 Come Sing with Us
The LMU Concert Choir ensemble is the easiest way for the LMU Community to continue and nurture a love of singing, in a fun, low-pressure environment with performance opportunities. All students, alumni, faculty, staff and members of the community are welcome to participate. No auditions are required!
The Concert Choir presents the full range of choral repertoire with a special focus on living composers. The choir often performs extended works by composers such as Mozart, Bach, Handel, Vaughan Williams, Beethoven, Duruflé, Brahms, and Bernstein. The ensemble combines with the LMU Consort Singers and orchestra to perform master works at LMU's acclaimed Sacred Heart Chapel.
How to Get Involved
LMU Concert Choir (MUSC 495) meets Tuesday evenings, 6:30pm to 9:20pm. This course is currently open and registration will continue through the first week of classes.
Singers interested in joining the Concert Choir must sign up for a voice placement ONLY if you have not previously sung for Dr. Harper. Voice placements will take place on August 26-29, 2022. Sign up here.
For more information about the choruses or to schedule an appointment, contact T. J. Harper, Director of Choral Activities.
Concert Choir Performs "Glow" by Eric Whitacre
2019 Gala Christmas Concert
Concert Choir Performs "If Music Be the Food of Love" by David C. Dickau
2021 Virtual Spring Chorale
Concert Choir performs "In Virtute Tua" by Grzegorz Gerwazy Gorczycki
2021 Virtual Spring Chorale
Concert Choir performs "My Shepherd Will Supply My Need" arranged by Mack Wilberg
2020 Winter Virtual Choral Concert