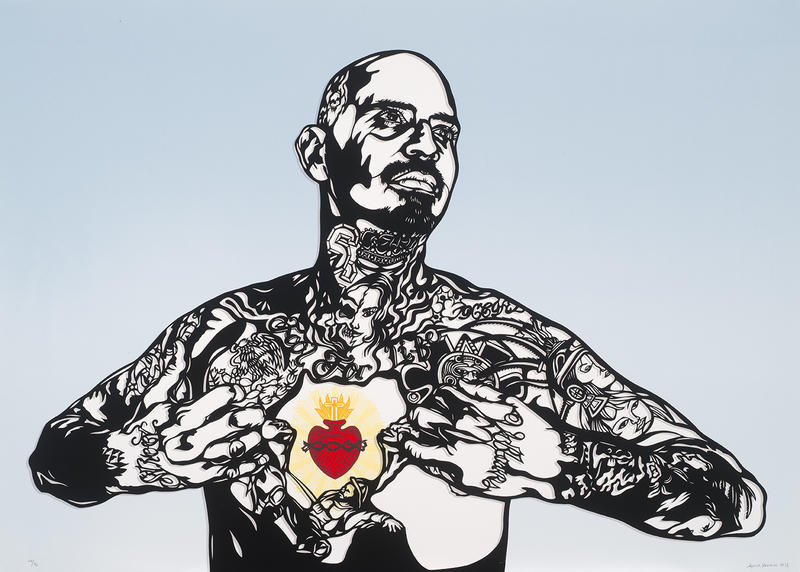 Exhibition dates: Sep. 23 – Dec. 9, 2023
Opening Reception: Sat. Sep. 23, 1 – 3pm
This fall Loyola Marymount University's Laband Art Gallery proudly features Sonia Romero in a 20-plus-year survey exhibition that celebrates Romero's enduring and boundary-pushing art practice as well as her important contributions to the Los Angeles art landscape as the creator of multiple permanent public artworks. Sonia Romero: Taken Root includes more than 50 pieces spanning from the early 2000s to the present that celebrate the artist's signature visual language that has always and already expanded the possibilities of the mediums of printmaking, painting and papercutting.
Romero (b. 1980, Los Angeles, CA) exemplifies the identity and lived experience of a "both/and" artist. Describing herself as "half Hispanic/Mexican American" and "half German/Russian American," she has cultivated her own artistic path that synthesizes her Chicano heritage traced through her father's side (her father is artist Frank Romero) along with her Ashkenazi Jewish matrilineal line influenced by her grandmother, artist and art collector Edith Wyle—who was founder of Los Angeles's Craft and Folk Art Museum—as well as her mother Nancy Romero, also a visual artist. Proclaiming herself as an artist since childhood, Sonia Romero's multi-ethnic upbringing has been formative to her development of her individual expression that transcends categories of belonging as well as art making.
The exhibition Taken Root considers how Romero, known for her methodical, and sometimes playful, art-making processes, blurs distinctions between the mediums of painting and printmaking, creating varied and complex artworks that belie a mere surface reading. The artwork she produces—painted and collaged canvases, monoprints, linocuts and silkscreens as well as hand-painted tiles, embossed ceramics and laser-cut steel forms—could be best described as materially and technically intertwined. Calling herself a painter first who studied all modes of printmaking as an undergraduate at the Rhode Island School of Design, it was her post-grad year-long tutelage under graphic artist Artemio Rodriguez at Self Help Graphics and Art that set her on a trajectory of mixing media. Her mastery of the linocut and its limitless possibilities of repetition, pattern and bold graphic qualities blossomed into an ever-evolving signature style in which prints merge within a painting, the linocut begets a paper cut, the papercut becomes the model for a painting, and so on.
The intertwining of media has generated multiple series of work that are, not surprisingly, also interrelated. Romero's earliest pieces in the exhibition, produced after completing her BFA at RISD (2002) and returning to Los Angeles, recall parables and tales passed down through children's literature. After a year spent studying in Rome and interaction with visiting faculty like the late Paula Rego at RISD, Romero conjured stories about labor, fantasy and desire in her depictions of mostly female characters and narratives.
Long an astute observer and recounter of contemporary culture, Romero's critiques and interpretations have sharpened as she addresses current issues of social, cultural and political significance. Some of the artist's ongoing personal concerns are, for example, the consequences of human overconsumption and the need to tap into a state of inner wellbeing. Romero always expresses her perspectives through her distinctive graphic language that is neither didactic nor heavy-handed, and employs a set of recurring motifs—in particular trees, piles and the body—to represent the different states of reality that she is depicting. Taken Root provides the first opportunity to consider her various bodies of work produced over the last twenty years in the context of one another.
One of the hallmarks of Romero's practice is her commitment to making her artwork as accessible as possible—legible to the widest potential audience—thereby carrying the torch of important Mexican and Chicanx artistic forebears. Her desire to connect her artwork with broad audiences is most pronounced in the more than ten permanent public art commissions she has completed across southern California. This exhibition will highlight five public artworks that illustrate her process: how she finds inspiration in narratives gleaned through research and community engagement and pushes herself to develop new working and material strategies that further her artistic vision.
The exhibition "Sonia Romero: Taken Root," will travel to the University of San Francisco's Thacher Gallery in March 2025. The show was curated by Karen Rapp, Director & Curator at the Laband Art Gallery, Loyola Marymount University, Los Angeles, CA, where it debuted in fall 2023.
Image credit: Sonia Romero, Sacred Heart, 2013, silkscreen, 8 colors, 33 x 46 in., courtesy of the artist
Installation Images