August 25 – October 1, 2006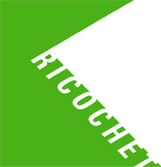 Curator's Statement
In conjunction with the Alumni Weekend Celebration, Loyola Marymount hosted an inaugural alumni exhibition entitled RICOCHET. This exhibition represented alumni over the span of 31 years beginning with the graduating class of 1975 and ending with 2006. RICOCHET displayed the range of talent that has emerged from this department, enabled by both a dedicated faculty and a rigorous studio arts curriculum. It also documented a change in art history, as reflected in the diverse range of style and subject matter inherent in these works. RICOCHET celebrated 30 artists who are returning for the first time to the institution which nurtured their creative expression
This cross section of alumni work ranges in theme from spirituality to politics incorporating everything in between. While some attempt to blur the boundaries between art and the media, others deal with concepts utilizing the time tested tools of landscape, still life, and realist representation. Christine Morla, a 1998 graduate from LMU, holds an MFA from Claremont Graduate University; in her work she employs images from television, nature, fashion magazines, and family photos. Morla deals with the innate contrasts of her constantly changing pop-urban lifestyle to her folkloric Filipino heritage. Other artists like Janice Balinas and Grace Swanson take a traditional approach to their craft. Balinas, class of 2000, creates beautifully rendered graphite portraits. In her work she communicates the meditative contemplation of the self and of the relationships in her life, while Swanson, class of 1996, utilizes the traditional still-life as her creative matrix. For her, lush and voluptuous fruit are the ideal vehicle for painterly realism—in other words—the art of portraying exactly what one sees.
In addition to the field of fine art, LMU has also produced a number of commercial photographers, designers, illustrators, and animators who are represented in this exhibition. One of these artists, Matt Cullen, class of 2001, was initially unsure whether he would be able to make a living at design, so he double-majored in biology and graphics. Today, Cullen's firm, Motion Theory, in business less than six years, has already received numerous design awards and counts among its clients such high-profile firms as Deutsch, Mastercard, Nike, Toyota, and BBDO. Motion Theory seamlessly integrates conventional live action production with motion control, stop-motion animation, CG, and illustration. Another artist who has benefited from her degree in graphic design is Erin Manning, class of 2001. Erin is a commercial photographer who returned to LMU well into her career and has since worked with clients such as AT&T, Bank of America, Disney, as well as various lifestyle magazines, healthcare organizations, and individuals. She has also recently become host of DIY Channel's "The Whole Picture," a program focused solely on digital photography.
Since leaving their Alma Mater, these 30 artists have gone on to pursue many of the goals they set for themselves during their time at LMU. And although their experiences have varied dramatically over the past three decades, they are here together this fall, at their Alma Mater, to RICOCHET off the place where it all began.
Sinead Finnerty-Pyne
Class of 2000
Guest Curator
Sinead Finnerty-Pyne is currently the artistic director of the Los Angeles Art Association. She received her B.A. in Art History with a minor in Studio Arts from LMU in 2000.
Participating Artists
Janice Balinas
Georgette Buckley
Michael Carini
Matt Cullen
Theresa Delaney
Gregory Dina
Laura Fearing
Lisa Filpi
Nathanial Garcia
Ryan Garton
Scott Groller
Erin Manning
Michelle Martini
Katherine Kieffer McLean
Paul McKenna
Gerald Mercado
Jenifer Mercado
Richard Morgan
Christine Morla
Ursula O'Farrell
Liz Powers
Tracy Robinson
Marlene Rogers
Jaye Joslin Russell
Danielle Segura
Will South
Grace Swanson
Osvaldo Trujillo
Rachel Vaidman
Lucy Windes