January 24 - March 23, 2015
This exhibition explores the story of the South African print workshop—Artists Proof Studio (APS). Founded in 1991 in Johannesburg, this multi-racial, community-based arts organization has followed a trajectory of reconciliation and growth parallel to that of South Africa as a whole. The exhibition focuses on the studio as a place for professional training where a consciousness of art's potential to contribute to social transformation is fostered. It also features some of the projects where the studio engaged the community to bring awareness to HIV/AIDS and other important social issues. Works created at APS by renown South African artists, such as William Kentridge, Bevan de Wet, and Phillemon Hlungwani are also on view.
Artist Proof Studio was co-founded by South African artists Kim Berman and Nhlanhla Xaba amid the euphoria of Nelson Mandela's release from prison and the anticipated dismantling of apartheid. Berman had spent seven years working and studying in Boston and came back to what she describes as "a South Africa trying to reinvent itself... the energy was amazing, people working together and believing in a different future." Berman took the collaborative ethos of Artist Proof, a print workshop in Boston where she had interned, and combined it with the spirit of Ubuntu, an African philosophy which embraces the principles of reconciliation through the recognition of our common humanity. Her co-founder, Xaba brought his strong connections to local artists into the mix. Printmaking was seen as a counterforce to the suspicion and division left from the apartheid years and, as a democratic medium it was considered to be appropriate to building a truly egalitarian society.
APS straddles the worlds of arts education, community-based projects, and fine art. It trains students in a three-year program attracting aspiring artists who have talent but lack formal education or money. The studio has launched the careers of some notable South African Artists such as Donald Makola and Bambo Sibiya. APS has also produced numerous educators, activist-artist-citizens who participate in extensive community outreach. HIV/AIDS has affected APS as much as it has every segment of South African Society. The studio responded with Paper Prayers projects, a variety of initiatives that allow people to express hopes for healing and enables women to create marketable artistic objects. APS artists have produced other fine art projects including Reclaiming Lives focused on the HIV/AIDS epidemic and the loved ones they have lost.
The Laband exhibition features portfolios Ten Years of Democracy (2004) and Thirty Years in Soweto: From Resistance to Leadership (2006) which capture milestones in the anti-apartheid struggle and South Africa's transition to a democracy. When the national government eliminated a training program that accounted for approximately 70% of APS's budget in 2009, the studio expanded its professional output through the Pro-Shop where artists work with a team of master printers. The participation of William Kentridge and other well-known South African artists has been key to APS's ongoing survival.
The exhibition features over seventy prints by over 30 artists. The prints range in technique, style, and subject matter reflecting the spirit of openness and experimentation found at Artist Proof Studio.
Featured Artists
Vincent Baloyi, Bongi Bengu, Kim Berman, Jonathan Comerford, Chris Diedericks, Muzi Donga, Sandile Goje, Sibusiso Gumede, Phillemon Hlungwani, William Kentridge, Sipho Limpiao, Dumisani Mabaso, Moloko Mabotja, Donald Makola, Sibusiso Maseko, Bongi Mkhize, Thabo Mokoena, Paul Molete, Tebogo Moloi, Flora Mmaphoko More, Elliot Mthimkhulu, Mongezi Ncaphayi, Vedant Nanackchand, Sibusiso Ngwenya, Charles Nkosi, Gabisile Nkosi, Jan Tshikhuthula, Mmakgabo H. Sebidi, Usha Seejarim, Bambo Sibiya, Pontsho Sikhosana, Mario Soares, Bevan de Wet, and others.
(this text was adapted from Pamela Allara's "A Brief History of Artist Proof Studio in Johannesburg: Sustaining Community, Fostering Creativity." Coming of Age: 21 Years of Artist Proof Studio. Edited by Pamela Allara and Kim Berman Johannesburg: Johannesburg Art Gallery, 2012, pp. 1-5. Exhibition catalogue; and Steven Dubin's "The Proof is on the Walls: Johannesburg's Artist Proof Studio Celebrates 21 Years." Art in America. July 1, 2012.)
Supporters of the Exhibition
This exhibition and its related programs are generously supported by LMU's College of Communication and Fine Arts Dean's Office, the Department of Art and Art History, KaleidoLA: The Speaker Series of the Department of Art and Art History, LMU's Theatre Arts Program, the Los Angeles Printmaking Society, and Mary Sherwood Brock.
View events related to this exhibition.
Images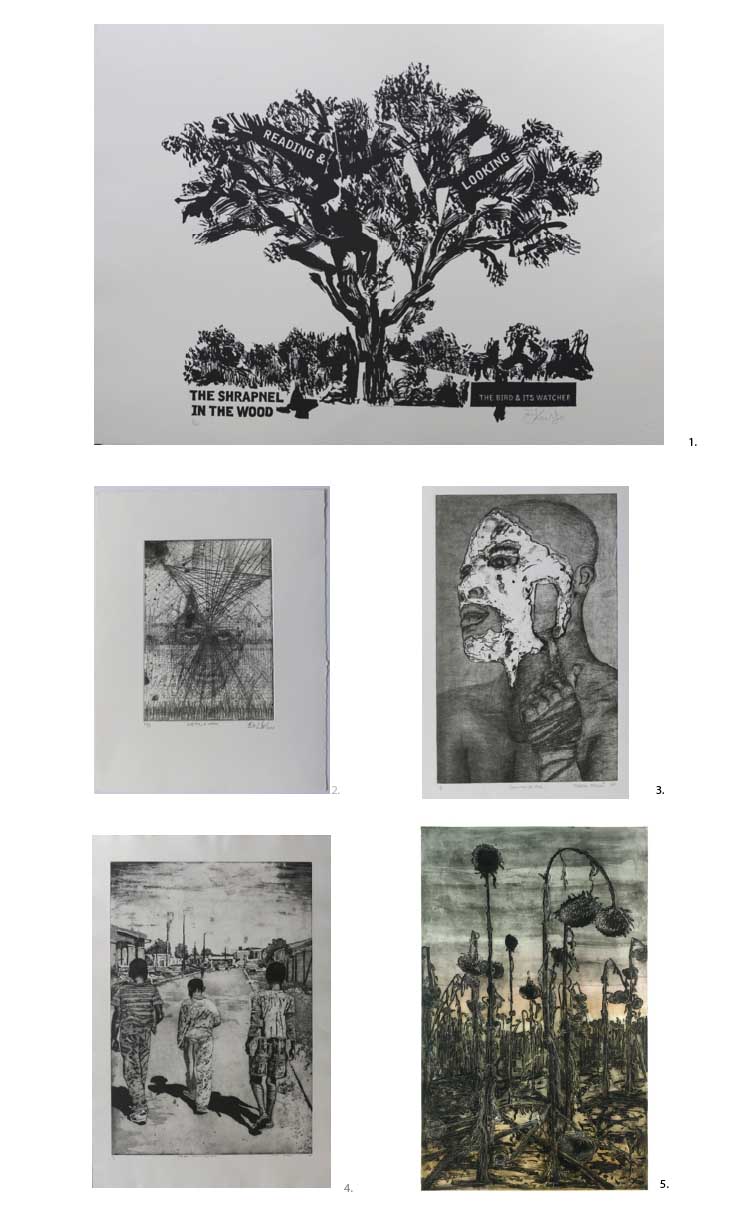 Top: Kim Berman, Telling the Story, Artist Proof Studio at Work II, 2012, drypoint with monoprint
1. William Kentridge, Bird and Its Watcher, 2013, linocut, 3/50
2. Bevan de Wet, Subtly, The noise, 2013, drypoint with monoprint, 6/15
3. Tebogo Moloi, Coming of Age, 2009, etching, 1/3
4. Mario Soares, We Are Moving Forward, 2013, etching
5. Kim Berman, Mourning Our Future, 2006, etching.