September 12 - November 20, 2015
"Richard Renaldi is a matchmaker for tense times, asking complete strangers to pose with their bodies touching, as if they were intimates."
- John Leland, "You May Touch A Stranger, Lens Blog, New York Times, July 5, 2013.
Since 2007, Richard Renaldi has been working on a series of photographs made by approaching complete strangers to physically interact with each other while posing for a portrait. Working on the street with a large format 8 x 10 view camera, Renaldi encounters his subjects in towns and cities across the United States. He pairs them up and invites them to pose together in ways that people usually reserve for their loved ones and close friends. Renaldi creates spontaneous and fleeting relationships between strangers for the camera, often pushing his subjects beyond their comfort levels. These relationships may only last until the moment the shutter is released, but the resulting photographs are moving and provocative, and raise profound questions about the possibilities for positive human connection in a diverse society. The exhibition features thirty-two photographs and two videos.
Organized by Aperture Foundation, New York. Curator: Ann Pallesen, Gallery Director, Photographic Center Northwest, Seattle. The travelling exhibition Touching Strangers was made possible, in part, with the support of the Robert Mapplethorpe Foundation.
Artist's Bio
Richard Renaldi was born in Chicago in 1968. He received his BFA in photography from New York University in 1990. Exhibitions of his photographs have been mounted in galleries and museums throughout the United States, Asia, and Europe. In 2006 Renaldi's first monograph, Figure and Ground, was published by the Aperture Foundation. His second monograph, Fall River Boys, was released in 2009 by Charles Lane Press. Renaldi's most recent monograph Touching Strangers, was released by the Aperture Foundation in the spring of 2014. In 2015 Richard was named a John Simon Guggenheim Memorial Foundation Fellow in Photography. renaldi.com
Catalogue
A book on the series with 71 full color images with an introduction by Teju Cole, published by Aperture is available for sale.
Images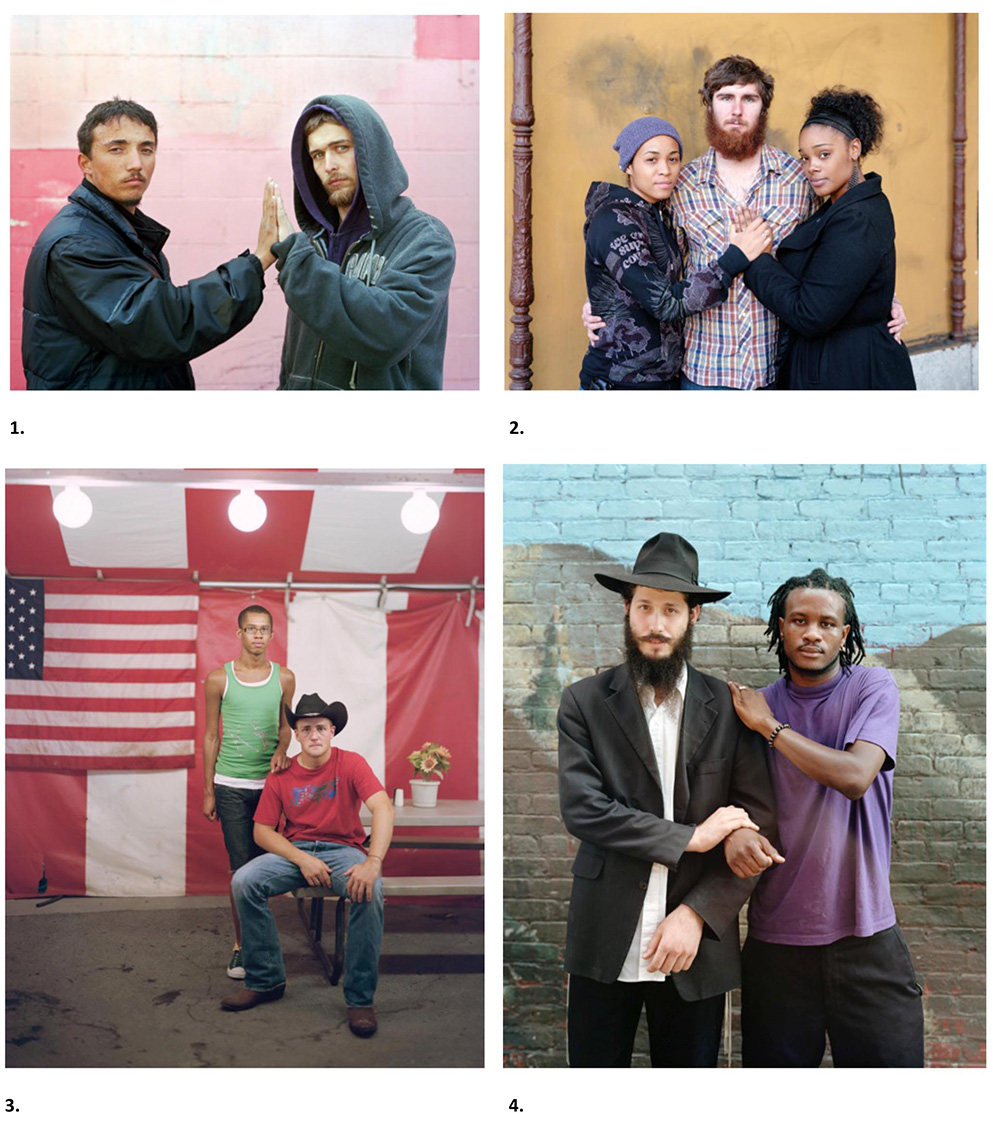 All images by Richard Renaldi, all image are archival pigment prints.
Vincent and Charles, Los Angeles, California, 2012
Tori, Shawn, and Summer, Los Angeles, California, 2012
Jeromy and Matthew, Columbus, Ohio, 2011
Shalom and Jeff, Brooklyn, New York, 2013