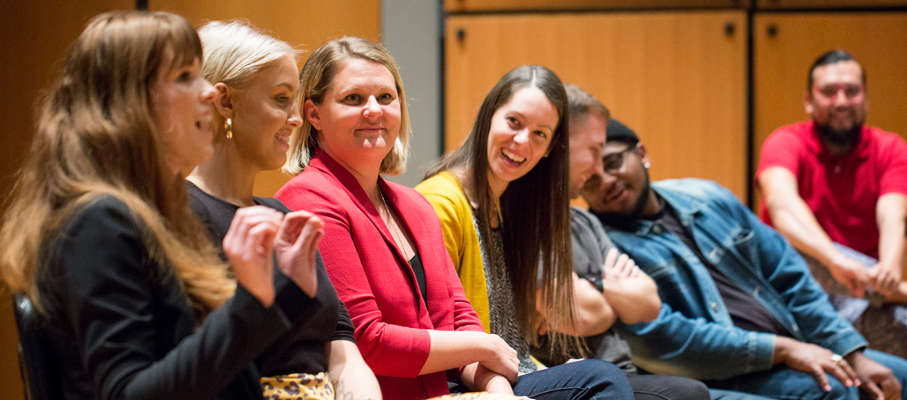 KaleidoLA is the Department of Art and Art History's annual guest speaker series. For the past ten years, KaleidoLA has been a vital connection between Loyola Marymount University and the Los Angeles arts community.
Fall 2023 KaleidoLA Speakers
Lenard Smith
Lenard Smith is a first generation Ghanaian-American interdisciplinary artist living and working in Los Angeles, California. Smith's Master of Fine Arts in Advanced Photographic Studies from Bard College grounds his work in traditional practices and experimental methodologies.


Wednesday, Oct. 11
1:45–3:25PM PDT
Burns 152
Lauren Thorson
Lauren Thorson is currently an Associate Professor in the Department of Graphic Design at Virginia Commonwealth University. She was a Ph.D. candidate at the University of Minnesota and worked as a Researcher at the Interactive Visualization Lab. She holds an M.F.A in Visual Studies from the Minneapolis College of Art & Design, a B.A. in Communication Studies, and a B.F.A in Graphic Design from the University of Iowa.


Monday, Oct. 23
6:00–7:00PM PDT
Burns 157
Yara Feghali
Yara is a French-Lebanese architectural designer working at the intersection of architecture pedagogy, transmedia, and immersive technologies. She is the creative director of Folly Feast Lab co-founded with Viviane El Kmati and based in Santa Monica. Through worldbuilding and storytelling they design immersive and interactive experiences, applications, software, design tools and games around queer identity, sustainability, and technology.


Wednesday, Nov. 1
3:40 - 5:20 PM
Burns 214
Header image taken at the KaleidoLA 2016 Emerging: Alumni Panel