Bachelor of Arts in Studio Arts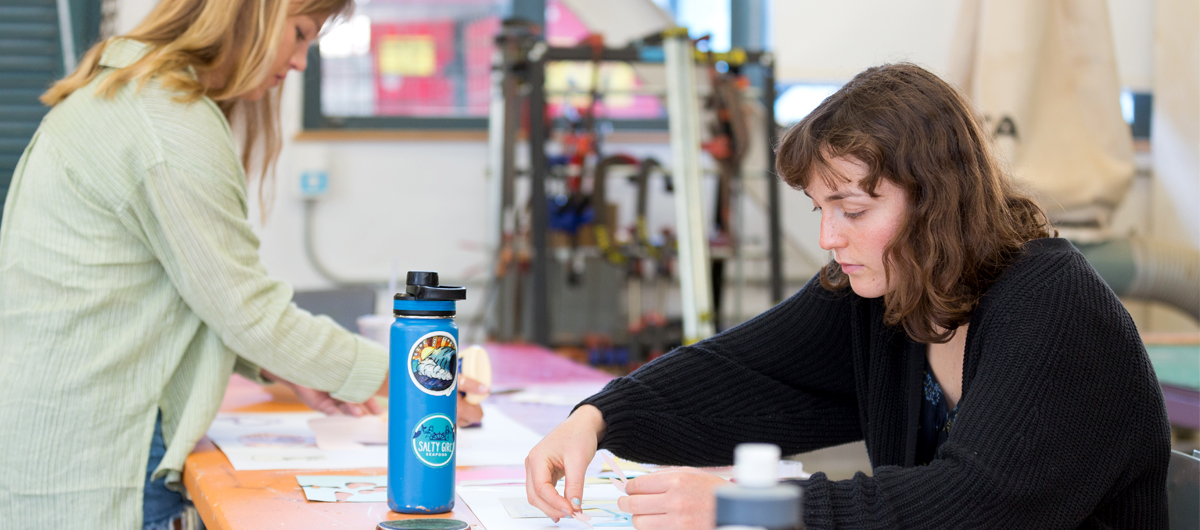 Overview
The Bachelor of Arts (BA) in Studio Arts degree program provides broad-based studio arts experiences to support students who are interested in focusing on more than one area of studio arts, or who want to combine their interests in art and design with a double major, minor or double minor in related or complementary fields. Students enrolled in this program receive a thorough education in studio arts within a broader liberal arts education.
Students pursuing the BA in studio arts will learn the basic definitions, concepts, and techniques in visual arts, how to discover their unique capabilities and personal artistic expression, and how to solve creative and aesthetic problems in the visual arts. This program will allow students to represent a distinct sensibility, make artistic decisions based on an awareness of traditional and current art movements and technological advancements, expand their cultural and critical view of the history of art, and prepare a portfolio needed to enter graduate studies or a professional career.
Major Requirements
A total of 50 semester hours: 26 semester hours of lower division courses and 24 semester hours of upper division courses.
A total of 26 semester hours of lower division courses: 14 semester hours of Studio Arts Foundations, 8 semester hours of Art electives, and 4 semester hours of lower division Art History.

Studio Arts Foundations (14 units)

ART 1001 Foundation I 4 semester hours
ART 1002 Foundation II 4 semester hours
ART 1003 Foundation III 4 semester hours
ART 1010 Freshman Workshop in Studio Arts 2 semester hours

Lower Division Art electives (8 units)

Lower division ART electives courses are chosen in consultation with the BA program director. If there is a pre-requisite requirement, students will need to fulfill the requirements before taking a course.

Choose 8 semester hours from:

ART 1020 Portfolio Workshop in Studio Art 2 semester hours or
ART 1153 Drawing from Life 3 semester hours or
ART 1660 Design Literacy: Two-Dimensional Design 4 semester hours or
ART 1782 Programming /Creative application 4 semester hours or
ART 1881 Photography I: Digital 4 semester hours or
ART 2154 Drawing from the Human Figure 3 semester hours or
ART 2357 Painting I 4 semester hours or
ART 2474 Form as Art 4 semester hours or
ART 2476 Ceramic Sculpture 4 semester hours or
ART 2478 Ceramics I: Earth and Art 4 semester hours or
ART 2585 Intro to Printmaking 4 semester hours or
ART 2668 Typography I 4 semester hours or
ART 2764 Intro to User Experience Design 4 semester hours or
ART 2880 Photography I: Darkroom 4 semester hours

Lower Division Art History electives (4 units)

Choose one class from:

ARHS 2000 Foundations of Western Art 4 semester hours or
ARHS 2002 Art and Society: Early Christian to Early Modern 4 semester hours or
ARHS 2004 Modernism 4 semester hours

A total of 24 semester hours of upper division courses: 4 semester hours of upper division of Non-Western Art History, 16 semester hours of upper division Studio Arts courses, and 4 semester hours of an upper division ART Capstone course. Upper division Studio Arts courses are chosen in consultation with the BA program director.

Upper Division Art explorations (16 units)

If there is a pre-requisite requirement, students will need to fulfill the requirements before taking a course. Students can take 2+2 upper division Art Workshop courses instead of taking a 4-unit upper division ART course. Students can choose any upper division 2-unit ART workshop courses based on a consultation with the BA program director.

Upper Division Art Capstone (4 units)

Choose one class from:

ART 4950 Senior Thesis in Fine Arts 4 semester hours or
ART 4995 Advanced Studio Studies 4 semester hours

A Non-Western Art History (4 units)

Choose one class from:

ARHS 3311 Pre-Columbian Art 4 semester hours or
ARHS 3331 Arts of Africa 4 semester hours or
ARHS 3341 Arts of Islam 4 semester hours or
ARHS 3351 Arts of Asia 4 semester hours or
ARHS 4301 Arts of India 4 semester hours or
ARHS 4303 Arts of China 4 semester hours or
ARHS 4305 Arts of Southeast Asia 4 semester hours or
ARHS 4307 Arts of Japan 4 semester hours or
ARHS 4998 Special Studies 4 semester hours (if a non-Western topic is to be studied)
Career Pathways
Artists have various skill sets and strengths, such as creativity, problem-solver, self-discipline, and visual awareness. Many of these competencies are transferrable across roles and industries. As such, a Studio Arts major can result in rewarding career pathways. These job titles are examples of some professions that Studio Arts majors have applied their skills and abilities to after graduation, including:
| | | |
| --- | --- | --- |
| Gallery owner/operator | Visual Merchandiser | Printmaker |
| Artist-in-Residence | Graphic designer | Painter |
| Museum Publications Director | Photographer | 3D artist |
| Cartoonist | Art Appraiser | Computer animator |
| Art teacher | Art Critic | Assistant Curator |
| Illustrator | Exhibition designer | Project manager |
| Community Arts Center Director | Mural Artist | Reporter |
| Multimedia Artist | Event planner | Ceramics artist |