January 27 - March 17, 2018
Opening Reception: Saturday, January 27, 2 - 5 pm
This contemporary textile show includes 18 regional, national and international artists. The show is organized around three themes: technology as mediating force; the body and sexuality; and the re-contextualization of traditional forms. New Threads is co-curated by Karen Rapp and Sam Lee.
Participating Artists
Miyoshi Barosh, Chili Philly, Ben Cuevas, Lindsay Degen, Jasmine Delgado, Delicious Taste (Grant Levy-Doolittle + Bruce Yonemoto), James Gobel, Lorenzo Hurtado Segovia, Aubrey Longley-Cook, Mara Lonner, Diane Meyer, Jordan Nassar, Mark Newport, Robb Putnam, Erin M. Riley, Consuelo Jimenez Underwood, Margo Wolowiec, and Yarn Bombing Los Angeles.
By virtue of holding a needle and thread—or yarn, rope, cord—you may consider yourself embraced within the realm of craft. To use a familiar phrase, this exhibition is not "your grandmother's needlepoint;" nor is it mainly a showcase of exemplary textile-making techniques and talents. New Threads: Perspectives in Contemporary Fiber Arts is an eclectic grouping of artists who do indeed use thread, yarn, etc., to create their artwork. Several of the eighteen artists included in this exhibition are renowned for their sewing and weaving faculties; others have learned and practiced a new skill to create idiosyncratic pieces. What unites this work is its ability to give voice to a realm of issues and topics and to frame conversations employing fiber art within a broader scope of concerns and perspectives.
A noteworthy through-line is the incongruous relationship between our fast-paced digital culture and time-based practices of the hand made. Multiple artists tease out, for instance, the undeniable presence in our lives of social media, emojis, selfies, and belfies (yes, there is such a thing). Do our online self-representations embody the ultimate expressions of narcissism or are we merely exercising our freedom to be and enact our truest selves?
Several artists work within the vernacular of fiber arts to take a stand—to find empowerment—in our contemporary moment. A range of issues are addressed: the treatment of immigrants; the AIDS crisis; perceptions of the LGBTQ community; the performance of gender; transformation of landscape; and a sheer exasperation with the effects of capitalism.
Textiles have transformed the space within and outside the Laband. The artwork in our entryway suggests a stained-glass window and the adjacent installation of cord-wrapped poles and suspended God's eye conjures a spiritual setting. These pieces express familiar sensibilities here at LMU, albeit rendered in non-traditional and inventive ways.
Installation Images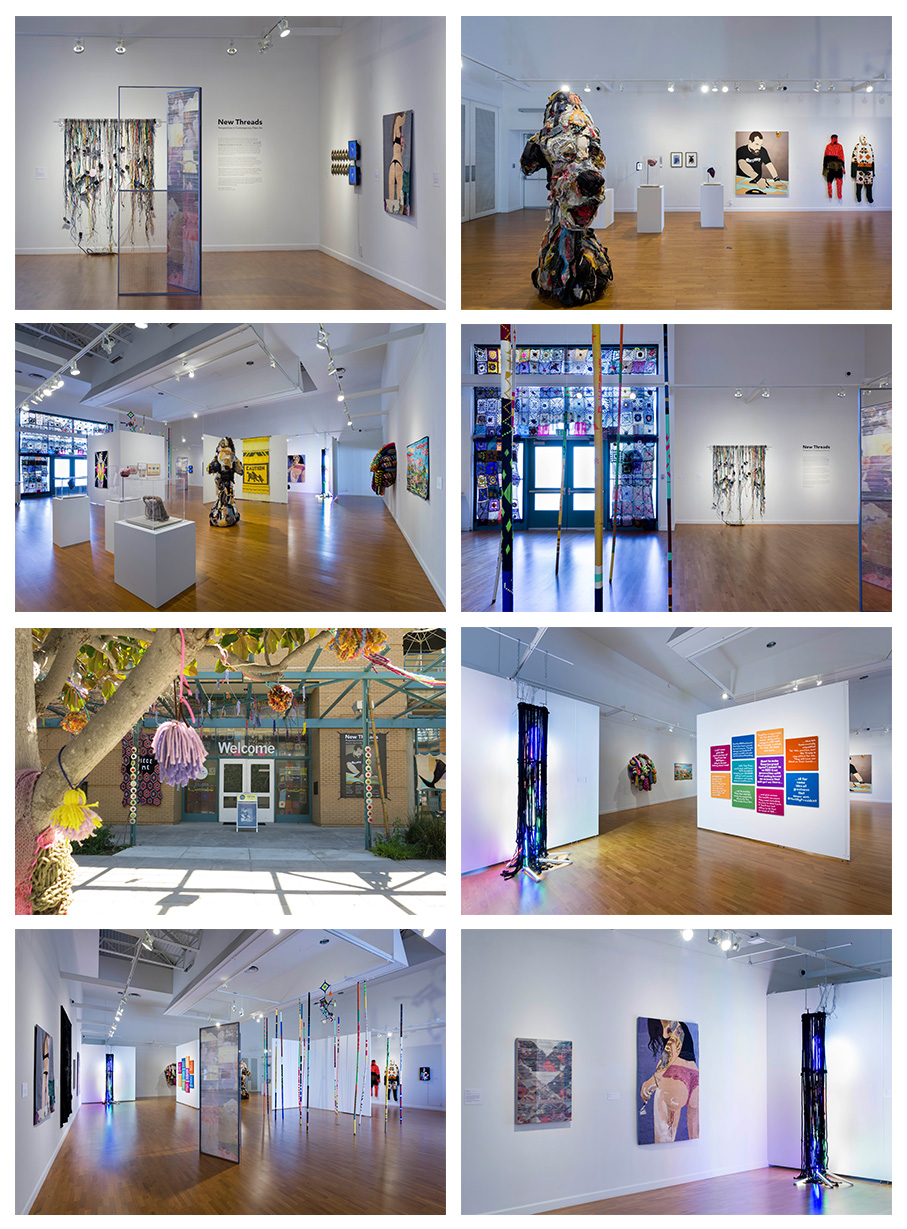 Photo credit: Ruben Diaz