34th Annual Juried Student Exhibition
April 18 - May 5, 2018
Opening Reception: Wednesday, April 18, 5 - 8 pm
The Laband Art Gallery is pleased to present Young Contemporaries 2018. Each spring, current LMU art students are invited to enter the Laband's juried exhibition and have their work judged by two professionals from Los Angeles's art world.
This annual student show includes a range of media taught in LMU's art program such as drawing, printmaking, photography, sculpture, painting, ceramics, graphic design, and new media.
Generous support for the exhibition is provided by The Friedman Family in memory of Andrea Kingaard Friedman '66.
Meet the 2018 Jurors
Susan Silton is a Los Angeles-based designer and multimedia artist. Her multi-disciplinary projects engage multiple aesthetic strategies to mine the complexities of subjectivity and subject positions, often through poetic combinations of humor, discomfort, subterfuge and unabashed beauty. Silton's work takes form in performative and participatory-based projects, photography, video, installation, text/audio works, and print-based projects, and presents in diverse contexts such as public sites, social network platforms, and traditional galleries and institutions. Her work has been exhibited/presented nationally and internationally at Museum of Contemporary Art, Los Angeles; SFMOMA, San Francisco; Susanne Vielmetter Los Angeles Projects; LA><ART, Los Angeles; Hammer Museum; ICA/ Philadelphia; MAK Center for Art and Architecture, Los Angeles; and Australian Centre for Contemporary Art, Melbourne, among others.

Drew Tewksbury is a Los Angeles-based editor, multimedia producer, and journalist. He is currently a contributing editor at GOOD media. Previously he served as L.A. Weekly's managing editor and was the managing editor/producer of Artbound, an arts journalism online publication and Emmy-winning television show airing on KCETLink Public Media. He has written and produced content for NPR, Los Angeles Times, Time magazine, and The Hollywood Reporter. He has taught journalism at University of Southern California and Loyola Marymount University. His photography was shown LMU's juried student show in 2004.
Award Winners
Jurors' First Prize
Jenica Rose Garcia
Jenica, 2018
Graphite on paper
Jurors' Second Prize
Yiwei Lu
Chinese Factory 01, 2018
Color photograph
Chinese Factory 02, 2018
Color photograph
Jurors' Third Prize
Isabel Ngo
Artemis, 2018
Stone lithograph


Jurors' Honorable Mentions
Angela Francis
Paige, 2018
CMYK color separation on glass
Nickerson, 2018
Screenprint
Zoe Au
Trepidation, 2018
Etching
Christoph Hans Neumann
Tangentially Involved but at a Safe Distance, 2018
Glazed ceramic
Laband Art Gallery Director's Award
Melissa Davis
Smells Like [My] Teen Spirit, 2018
Soy wax, raw clay
Installation Images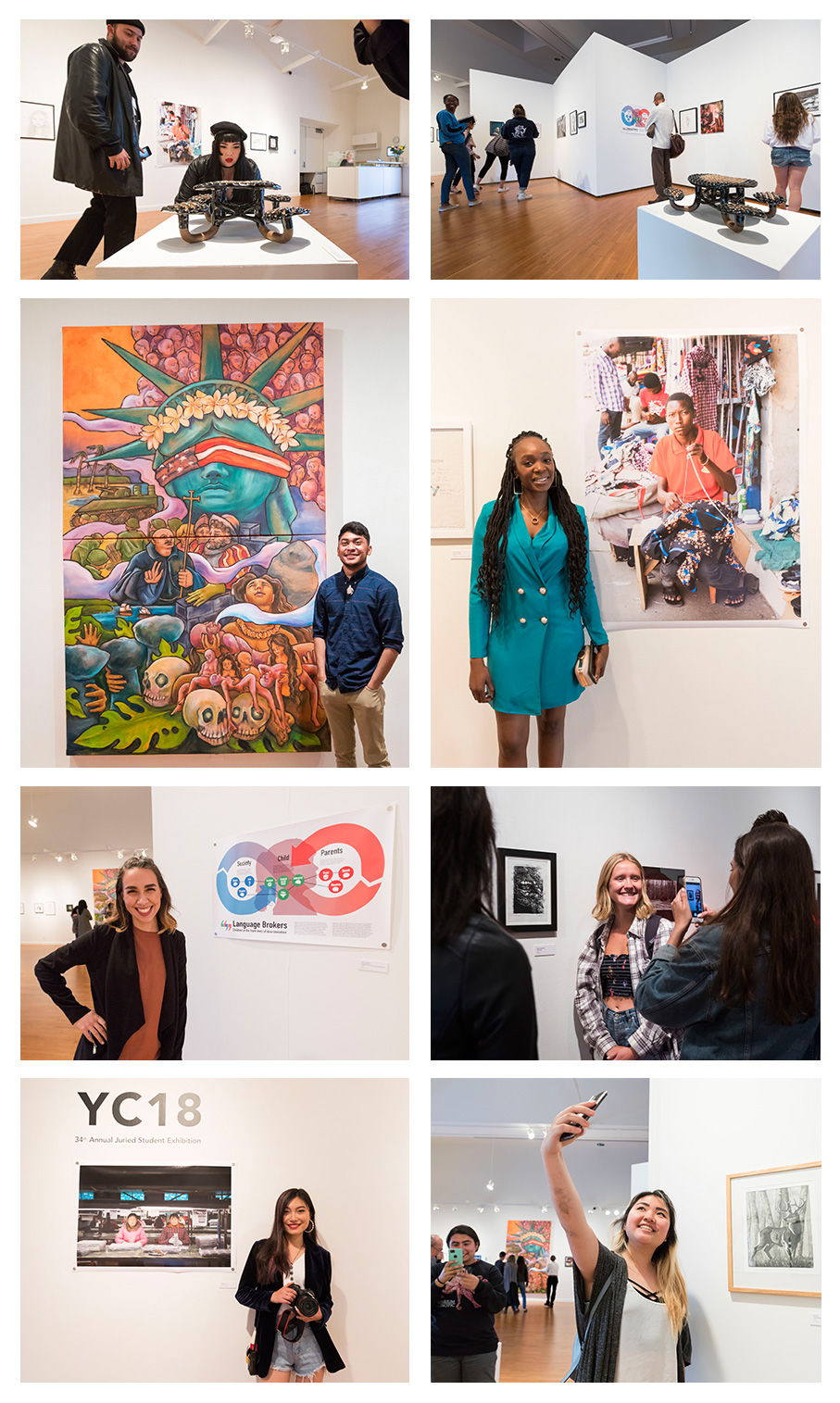 Photo credit: Monica Orozco