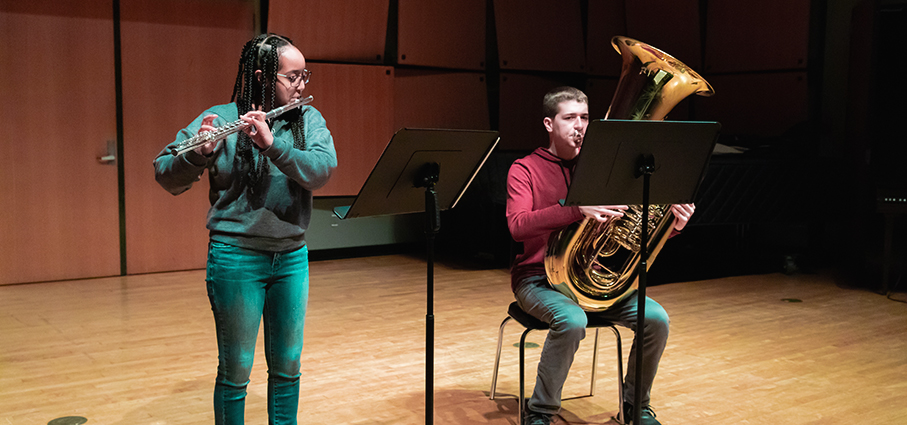 The Department of Music offers a variety of courses for the general student. Some fulfill university core requirements in the arts and others offer general enrichment opportunities.
Ensembles
The music program welcomes non-majors and non-minors to participate in its ensembles, which include the university choruses, the chamber orchestra, the world music ensembles, as well as percussion, strings, guitar and jazz ensembles. Auditions are required after enrollment for each of these groups, and all members of the LMU community are welcome to join. The ensembles carry one unit of credit, but may be taken for zero units to accommodate full schedules. Read more about ensembles.
Minor in Music
An audition in an applied emphasis (guitar, drum set, piano, strings, winds, voice) is required before admission to the major or minor. Audition requirements appropriate to each emphasis are available online and from the LMU Music administrative office (Burns 103). More info
Individual Music Instruction
Individual music instruction outside of the major and minor is available in Drum Set/Percussion, Guitar, Piano, Strings (violin, viola, violoncello, double bass), Voice, and selected Winds (flute, oboe, clarinet only). There is an applied music fee of $595 per semester for fourteen (14) 30-minute weekly lessons. Practice room facilities are available free of extra charge to all applied music students enrolled for credit.
Class Music Instruction
Class music instruction is also available for Piano, Guitar, and Voice. These classes meet for three hours a week and are intended for beginners or those who wish to explore a new instrument. Classes include: Vocal Experience, Guitar Experience, and Piano Experience.