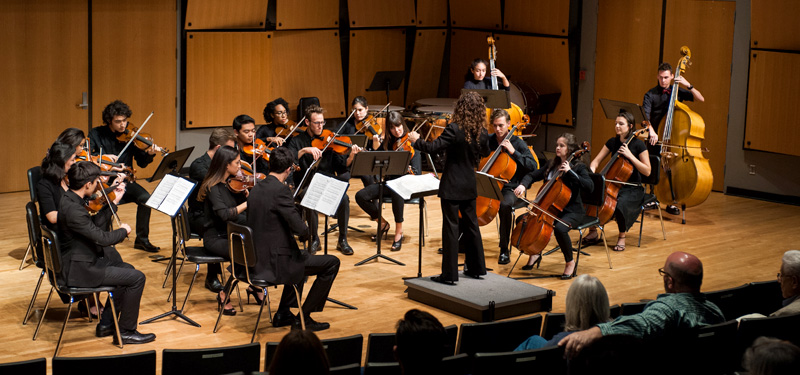 Group Performance
At LMU Music, there are countless performance opportunities in diverse ensembles catering to all areas of specialization. These include the LMU Choirs: Consort Singers, Oriana Vocal Ensemble, Concert; Instrumental Ensembles: Guitar Ensemble, African Music Ensemble, Jazz Ensemble, Wind Ensemble, String Ensemble, Chamber Ensemble, Percussion Ensemble, and the Sinatra Opera Workshop.
Our ensembles are nationally recognized and for decades have prepared students for admission to elite summer festivals, young artist programs, and graduate schools. Our award-winning Choral Music Program regularly tours across the United States and internationally.
Solo Performance
Through weekly private lessons, coaching, and studio classes; enriching coursework; and dynamic and diverse performance opportunities, our renowned voice and instrumental faculty prepare students for a 21st-century career in music performance, education, scholarship, administration, or other vocations. Our talented alumni have gone on to perform in the world's greatest concert halls, opera houses, professional choral ensembles, and jazz groups.
Contact lmumusic@lmu.edu for more details on solo performance opportunities.
"You Will Be Found" from Dear Evan Hansen, by Benj Pasek and Justin Paul
2023 LMU Choirs Spring Cabaret
"Burn" from Hamilton by Lin-Manuel Miranda, featuring Chloe Laursen '26
2023 LMU Choirs Spring Cabaret