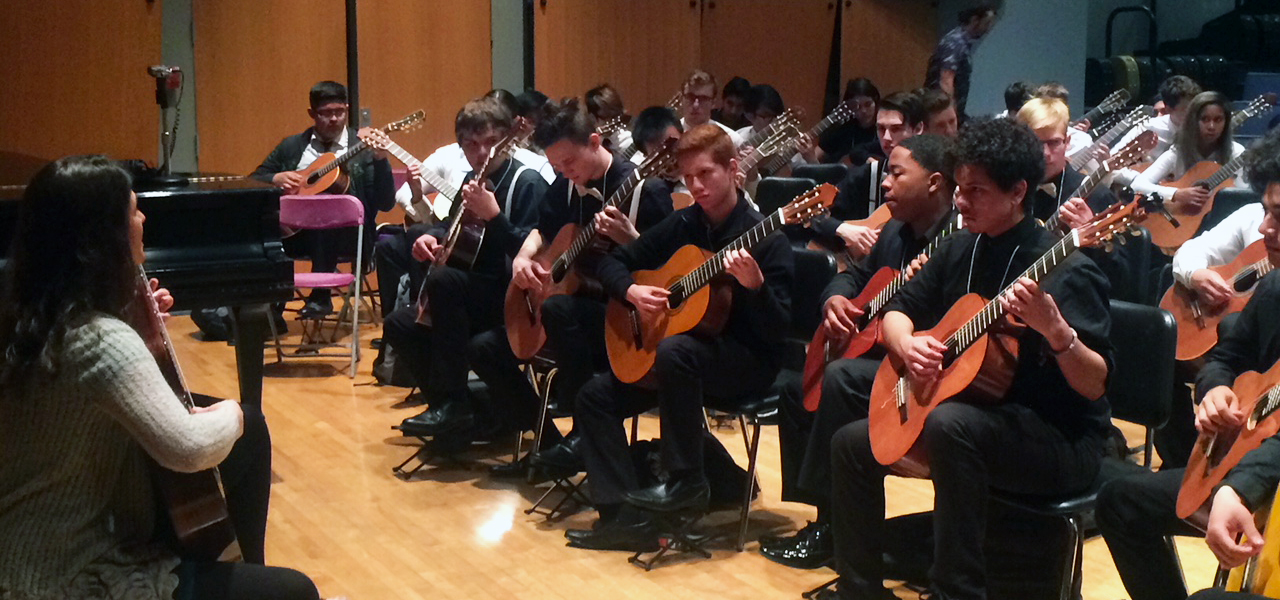 LMU Music Guitar Festival 2022
Date: March 19, 2022
Location: Loyola Marymount University
We are excited to welcome guitar fans from around Southern California back to Murphy Recital Hall for one of the most exciting guitar events in Los Angeles! Come for the whole day, or pick and choose events that work for your schedule.
Schedule
9am: Check in, ensemble warm up
10am: Adjudicated Ensemble Showcase ($10)
12pm: Lunch for all registered participants
12:30pm: Alumni-led jam sessions
1:30pm: Technique Workshop with Martha Masters
2:30pm: TY Zhang performance and Workshop ($25/$15)
4:00pm: Hilo Hi-Flyers, with guest AJ Minette, Performance and Workshop ($25/$15)
Tickets
All ticket sales are exclusively online (no onsite box office). Due to COVID restrictions, guests who are not a part of the LMU community must purchase tickets/passes a minimum of 48 hours in advance in order to receive campus access. Please check confirmation emails carefully for COVID vaccine requirements and campus access details.
See below for more details!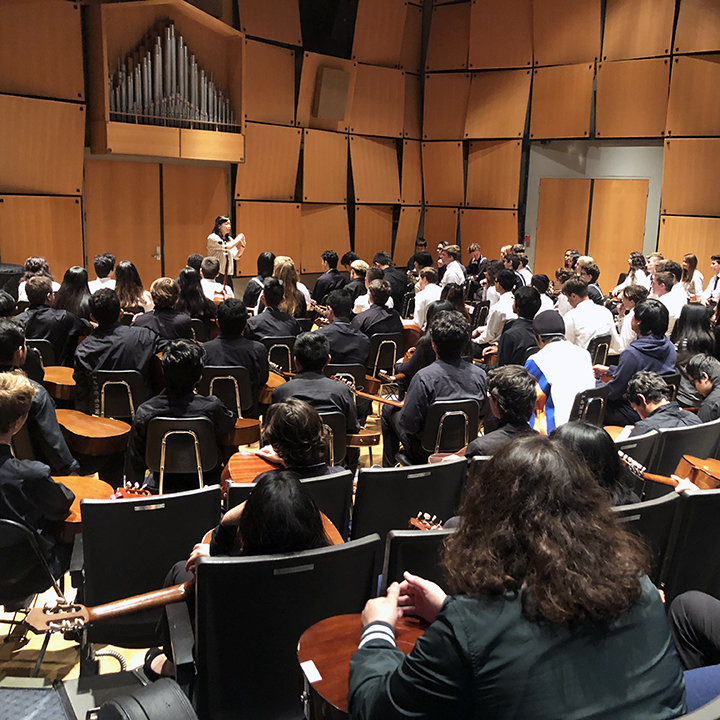 All Access Pass
For the true guitar enthusiast! Purchasing the all access pass for the full festival will gain you entrance to all festival events, concert performances, workshop participation, jam sessions, technique session with Martha Masters, plus lunch.
$65 General Admission\$45 Students
Adjudicated Ensemble Showcase
Ensembles from middle schools, high schools and community colleges will perform for the audience and for a panel of respected adjudicators. Come to see the talent of the future!
March 19 | 10am | $10
TY Zhang
Global sensation TY Zhang's concert will undoubtedly show off his stunning technique and musicianship, and afterwards he'll share some of his secrets to success. Come prepared with a few questions to get the most out of this event!
March 19 | 2:30pm | $25 GA, $15 Student
Hilo Hi-Flyers, with guest AJ Minette
Exotic jazz band the Hilo Hi-Flyers make their LMU debut bringing their eclectic style and charisma to the stage. The band will welcome LMU faculty AJ Minette to sit in for a few tunes, and will be leaving some time in their set to chat with the audience a bit about their creative journey and advice for musicians looking to create new pathways in their art.
March 19 | 4:00pm | $25 GA/$15 Students
Important Campus Access Information for External Visitors
Please note that this event will be held in person at Loyola Marymount University. To safeguard community health, and ensure safe and responsible in-person instruction and co-curricular activities, the university requires all external visitors to LMU must present proof of COVID vaccination or a negative PCR test within 72 hours or a negative rapid antigen test within 24 hours of your visit.
To access campus, you must bring a campus access event placard (this will be emailed to you prior to your event and may be printed or presented digitally on a smartphone) and must complete a Lion Health Check on the day of your visit. The Lion Health Check will prompt you for proof of vaccination or negative test results including date of test administration. (Not required for our campus community members with a LMU One Card.)
Prior to your event we will email you your access placard as well as a link to the online Lion Health Check portal. All members of your party must have a placard and a completed health check in order to access campus at this time, and must have proof of vaccine or negative COVID test to access the event space.
For the full LMU COVID Safety and Campus Access Policy and Guidelines, including what do to if you develop symptoms in the days following your visit to campus, please visit lmu.edu/together.