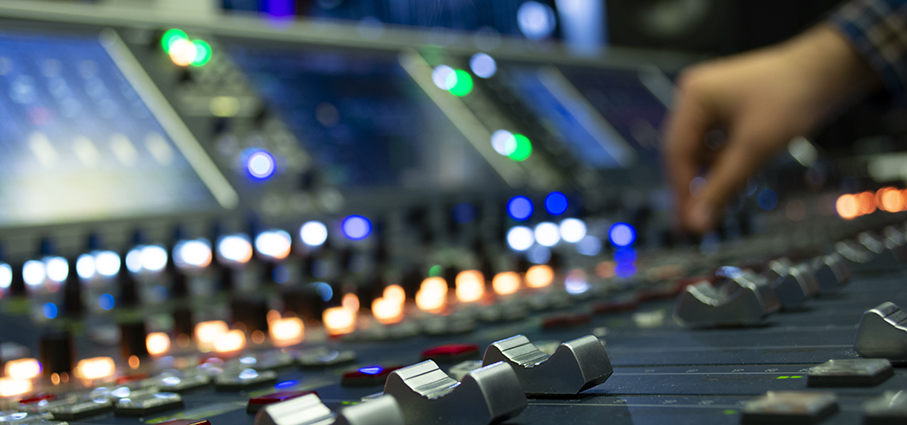 LMU Music's third annual New Music on the Bluff festival will focus on music technology. High school and community college students are invited to the Loyola Marymount University campus April 22, 2023, to develop their skills and knowledge through master classes, workshops, and a final concert.
Registrants will attend three master classes, led by two experienced L.A. producers and LMU Assistant Professor of Music David S. Carter, have a pizza lunch, join in group improvisations using phone apps, and attend a day-ending concert featuring the music of students and faculty. Registrants may submit one or more original songs or pieces featuring music technology for potential selection for the festival concert.
2023 Festival
Festival Date: April 22, 2023
Location: Loyola Marymount University, Los Angeles
Registration
Students registered for the festival will receive a pizza lunch, swag (including a festival t-shirt), and participation in all master classes and improvisations. To register for the event, complete the registration form and submit your payment of $35 at the "Fee submission" link below.* Register no later than April 15, 2023. (Teachers who will be accompanying at least one student to the festival may attend for no additional charge.)
Registration Deadline: April 15, 2023
Song Submissions
Registrants may submit one or more original songs or pieces featuring creative use of music technology for consideration for the festival concert by April 1, 2023. Proposals can either be for audio/video playback or live performance. Applications should be in the form of link to a video. The visual component of the video can be one or more still images or a video to accompany your audio. If your song/piece is intended for live performance, provide a video representing what your live performance will look and sound like. Proof of registration will be asked for as part of this form.
Registered students may submit as many videos as they like for consideration, but should submit a separate application form for each. The selections for the concert will be announced on April 8, 2023.
Festival Schedule
10:00 AM Welcome, Meet and Greet: Murphy Recital Hall
10:45 AM Master Class #1: Murphy Recital Hall
12 PM Lunch in the George A.V. Dunning Courtyard
1:00 PM Tech improvs with students breaking into small groups outdoors
2:00 PM Master Class #2: Murphy Recital Hall
3:30 PM Master Class #3: Murphy Recital Hall
5:30 PM Concert in Murphy Recital Hall of selected participant and faculty and LMU student pieces (recordings and/or live electronics, possibly combined with live instruments)
*Students who would like to attend the festival but for whom the registration fee would represent a financial hardship should send an e-mail to newmusiconthebluff@lmu.edu explaining their situation.
Past Festivals
2022 Festival
The 2022 New Music on the Bluff Festival took place at LMU April 29-30, 2022. Eight finalists had private lessons, attended master classes, and had their pieces performed at a concert on campus. Faculty included A.J. Minette, Mu-Xuan Lin, Isaac Schankler, David S. Carter, and Mark Saya.