Current Season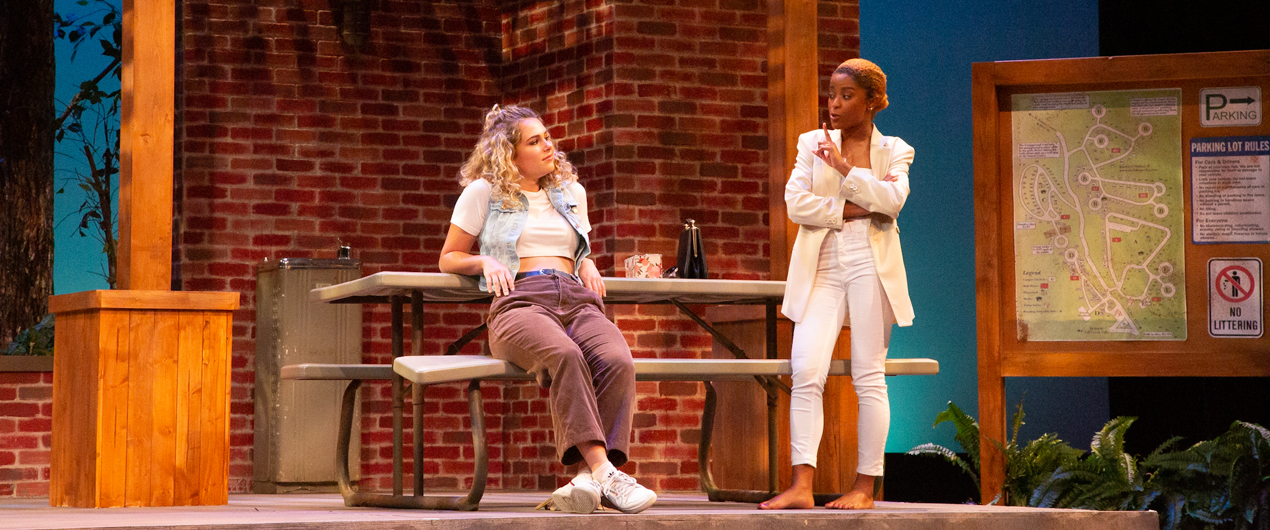 LMU Theatre Arts 2023–24 Mainstage Season
LMU Theatre Arts Ticketing Site
Jeannette (Workshop)
September 11–14, Barnelle Theatre
Join us to experience this re-imagined, pop-Broadway story of Jeannette: The Musical, telling the story of Jeannette Rankin, the first woman elected to Congress in 1917 — years before women were granted the right to vote. Jeannette: The Musical explores the very meaning of heroism, feminism, and activism with three women with three different intersectional perspectives and identities playing the title role. Jeannette: The Musical asks us to understand the past and challenge the present in order for us to move forward.
Hyannis
October 12–15, 18–21, Barnelle Theatre
In a small Cape Cod town, Michelle and her mother Fran run a small shop where they sell beach gear, souvenirs, snow globes, and the best fudge around. Michelle's son, Tommy, has just come home from his second stint in rehab, and the financial toll of his heroin addiction has hit the business' bottom line. Meanwhile, a young woman named Lauren is home from college to tend to her ailing mother, and she and Tommy make a connection that changes them both forever. Set over the course of a summer and a winter, Hyannis looks deeper at the plague of despair and drugs infecting small town America.
Pliant Girls (Staged Reading)
December 8–9, Barnelle Theatre
Fifty blood-stained brides seek refuge after murdering their husbands on their wedding night, but no one's eager to take them in. As Kay, Leta, Arianna, Courtney, and Philomena beg for their lives, their stories form a complex tapestry of contemporary sisterhood... and provide insight into the deaths of the men who stood in their way. In turns heartbreaking and hilarious, this feminist retelling of Aeschylus's The Suppliants is a haunting exploration of love, sexual politics, and the power of redemption.
The Red Demon
February 8–11, 14–17 Barnelle Theatre
The Red Demon tells the story of a creature who washes up on the shore of a small beach town. Reddened from long exposure to the elements and seemingly unable to speak a human language, the residents of the town immediately label him a demon, coming from the sea to eat them. The Demon's lone advocate is an outcast known only as That Woman, who sees in the Red Demon a mirror image of her own rejection. Together with her simple-minded brother Tombi, and an amorous suitor, Mizukane, their journey of discovery illuminates humanity's behavior in moments of intercultural conflict, focusing on racist fears of immigration and society's struggle with intolerance. Through satire, wordplay, wit, and a shocking surprise ending, The Red Demon asks this central question: How do we identify humanity, in both ourselves and others?
Bare (Concert Musical)
March 14–16, Strub Theatre
A pulsating, electric contemporary comping-of-age rock musical, Bare follows a group of students at a Catholic boarding school as they grapple with issues of sexuality, identity, and the future. As the group attempts to put up a production of Romeo and Juliet, tensions flare, self-doubt simmers, and God's path seems more difficult to find than ever. Bare rings with the sounds of youthful repression and revolt. With a unique sung-through pop score, heart-pounding lyrics, and a cast of bright young characters, Bare is a provocative, fresh, and utterly honest look at the dangers of baring your soul, and the consequences of continuing to hide.
New Works Festival
April 24–27, Barnelle
Our annual presentation of new student writing, directed, designed and performed by our talented students. Come see the stars of tomorrow... today!