Current Season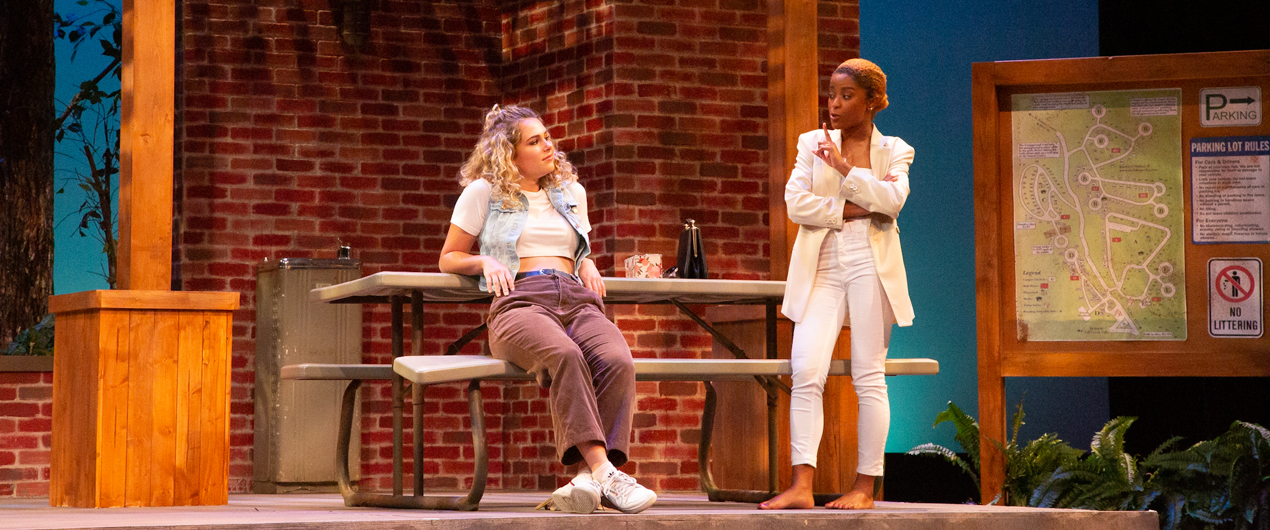 LMU Theatre Arts 2022-23 Mainstage Season
Cabaret
October 7-9 and 13-15, 8pm, Strub Theatre
Directed by Dana Resnick
Music by John Kander, Lyrics by Fred Ebb, Book by Joe Masteroff
In the midst of a post-World War I economic depression, Berlin is transitioning from a center of underground, avant-garde cultural epicenter to the beginnings of Hitler's totalitarian regime and the rise of the Nazi Party. Into this world enters Clifford Bradshaw, a struggling American writer who meets Sally Bowles, a vivacious, talented cabaret performer, and an utterly lost soul. With a distinctly Brechtian dose of provocation and a score featuring songs that have become classics of the American Musical Theater, Cabaret is a fierce, meaty musical that pushes boundaries in every way.
Haunting of Hannon X
October 21 and 22, 2022, Hannon Library
Written and directed by Kevin Wetmore
The annual Halloween takeover of the William H. Hannon Library will once again find LMU Theatre Arts haunting the library, promising thrills, chills and screams in the stacks.
June July August
October 27-30 and November 2-5, 8pm, Barnelle Theatre
Written by Sinead Daly
Directed by Keiana Richard
At an all-girls' summer camp in upstate New York, a group of teenaged junior counselors spend three life-changing months together as they navigate the complexities of womanhood, social hierarchies, and the irreversible consequences of their actions when things get gravely out of hand. June July August is an unflinching exploration of what it means to be a woman on the brink of adulthood and the bonds that are forged in the process.
The Good Body – Staged Reading
December 8 and 9, 8pm, Barnelle Theatre
Written by Eve Ensler
Directed by Anna Winget
With The Good Body, Eve Ensler, author of The Vagina Monologues, turns her unique eye to the rest of the female form. Whether undergoing botox injections or living beneath burqas, women of all cultures and backgrounds feel compelled to change the way they look in order to fit in. The Good Body merges cross-cultural explorations with Eve's own personal journey coming to terms with her "less-than-flat, post-forties stomach."
Exit the King
February 9-12 and 15-18, 8pm, Barnelle Theatre
Written by Eugene Ionesco
Translated by Donald Watson
Directed by Neno Pervan
A fading ruler at the helm of a world in decline, King Berenger is having some trouble accepting his fate. His first wife, Marguerite, is intent on forcing him to face his mortality, while his second wife, Marie, wants to shield him from the bad news. All the while an eccentric mix of servants weigh in from the sidelines, with varying degrees of helpfulness. A very funny and deeply moving look at the end of it all, and considered an absurdist masterpiece. Exit the King is presented by arrangement with Concord Theatricals on behalf of Samuel French, Inc.
Sometimes the Rain Sometimes the Sea
March 17-19 and 23-25, 8pm, Drollinger Family Stage
Written by Julia Izumi
Directed by Rena Heinrich
The Little Mermaid is Hans Christian Andersen's most beloved and well-known fairy tale, which is why it's not the story our friend, Dolan, is going to tell you today. No, he's going to tell you the story about a Little Rain Cloud who falls in love with a human. They are not the same story at all, he swears.
Songs for a New World
April 20-22, 8pm, Drollinger Family Stage
Written by Jason Robert Brown
Directed by Jon Rivera
It's about one moment. It's about hitting the wall and having to make a choice... or take a stand... or turn around and go back. This moving collection of powerful songs examines life, love and the choices that we make, transporting us from the deck of a 1492 Spanish sailing ship to a ledge, 57 stories above Fifth Avenue, to meet a startling array of characters that range from a young man who has determined that basketball is his ticket out of the ghetto to a woman whose dream of marrying rich nabs her the man of her dreams... and a soulless marriage.
New Works Festival
April 26-29, 8pm, Barnelle Theatre
Our annual presentation of new student writing, directed, designed and performed by our talented students. Come see the stars of tomorrow... today!