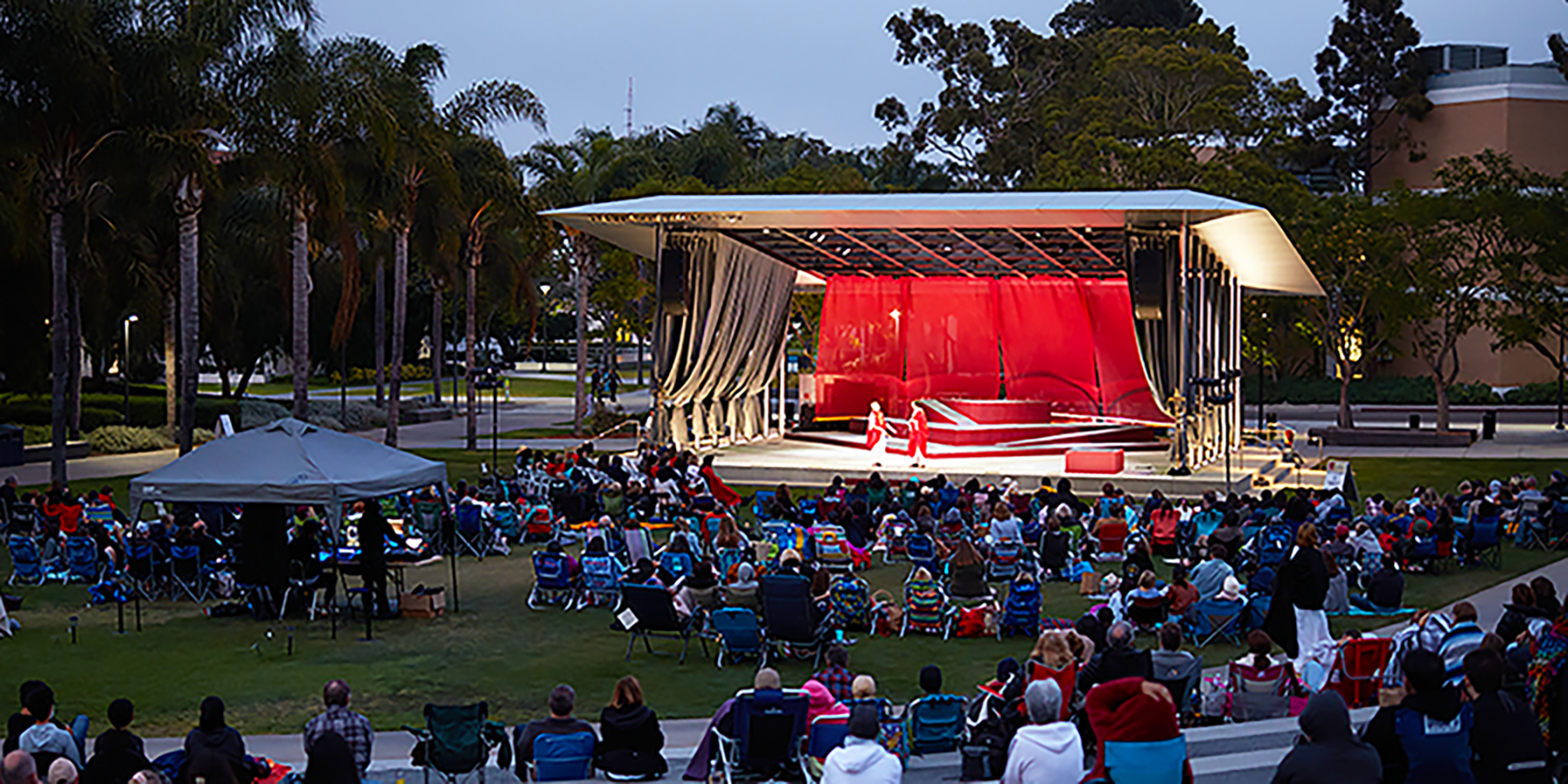 LMU's Shakespeare on the Bluff
Loyola Marymount University's College of Communication and Fine Arts and Theatre Arts Department is delighted to present free Shakespeare under the stars this summer with performances of Julius Caesar in June and The Tempest in July! All performances are 90 minutes long, family-friendly, free and open to the public, and performed at LMU's new Drollinger Family Stage on our gorgeous campus in Los Angeles. Picnics are welcome, doors open at 6pm.
Registration is requested to receive a free parking code as well as in the event of changing COVID policies and protocols.
Upcoming in July
The Tempest
July 22 and 23, 2022 | 8:00 p.m.
LMU's Drollinger Family Stage (campus map)
In one of Shakespeare's final plays, Prospero summons a mighty storm. But is it to enact horrible revenge? Or to make the world right again, while helping his daughter Miranda find true love? SotB weaves a magical tale of the power of stories and forgiveness.
Directed by Jane McEneaney
Past
Julius Caesar
June 24 and 25, 2022 | 8:00 p.m.
LMU's Drollinger Family Stage (campus map)
The rise of a beloved general. A conspiracy at the highest levels to assassinate him. The war that follows his murder. One of Shakespeare's earliest and greatest tragedies.
Directed by Kevin Wetmore

Questions?
Email theatrearts@lmu.edu.
Support Shakespeare on the Bluff!
Designate your gift to CFA's Shakespeare on the Bluff. Your generous support will allow us to continue to keep this new tradition free and open to all.
COVID Considerations and Visiting LMU
Currently, LMU's campus is open to visitors, and vaccinations and masks are not required to attend this event - it will be outdoors with room for distancing. Due to continually-changing COVID policies and ordinances, please review the LMU A-Z guide to learn about up-to-date campus visitor policies. For communication purposes about potentially changing policies, we ask that you register your attendance with us on the linked EventBrite pages above.