Foley Building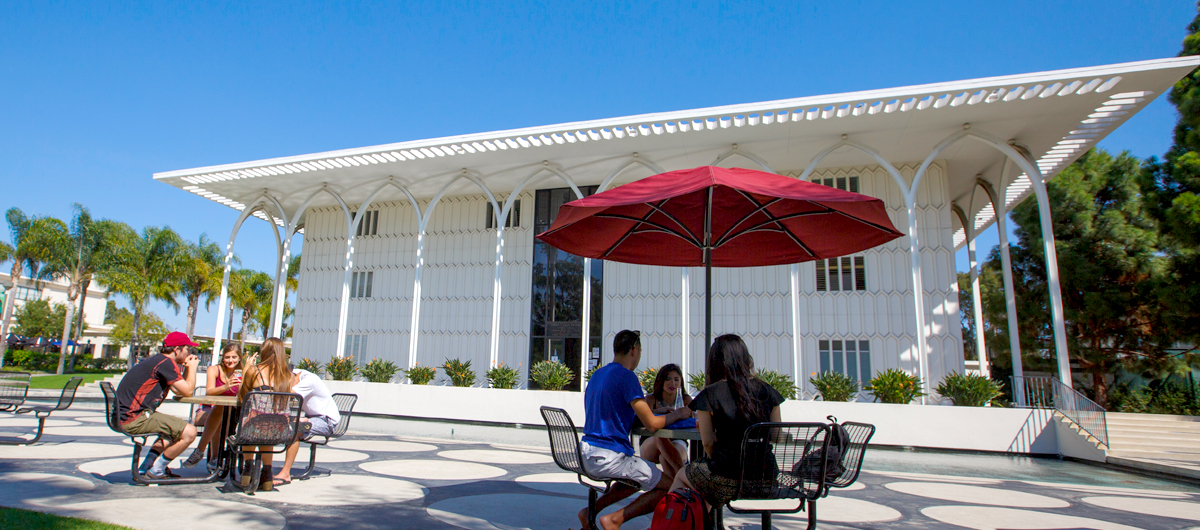 The Theatre Arts Department is located in the Edward T. Foley Building, which houses the Strub Theatre, the Virginia Barnelle Theatre, and two performance classrooms, as well as a number of design spaces. It's the principal center of LMU Theatre Arts, where the theatre faculty offices, the costume shop, and the student design and computer labs are also based.
Designed by master architect Edward Durell Stone in 1964, the Foley Center is a monumental rectangular building set on a podium behind a large reflecting pool. It is a pavilion-style structure much like a scaled-down version of Stone's famous design for the U.S. Embassy in New Delhi, with a massive projecting roof supported by tall arches that form a colonnade around the building.
The roof is perforated around the edges, allowing for constant play of light and shadow below, and both the perforations and the roof's delicate supporting arches are mirrored in a raised grid pattern of elongated hexagons all over the building's façade. All of it is white, save for the tall, simple dark glass entryway, creating a feel of lightness draped over the symmetry and power of the building's New Formalist style.
Within the Foley Building foyer is a tapestry by acclaimed muralist Millard Sheets, which is reputed to be the largest modern tapestry in the Americas and the third-largest in the world. Eighteen feet by thirty-four feet, the Loyola Tapestry was hung in March 1966.