The Merry Wives of Windsor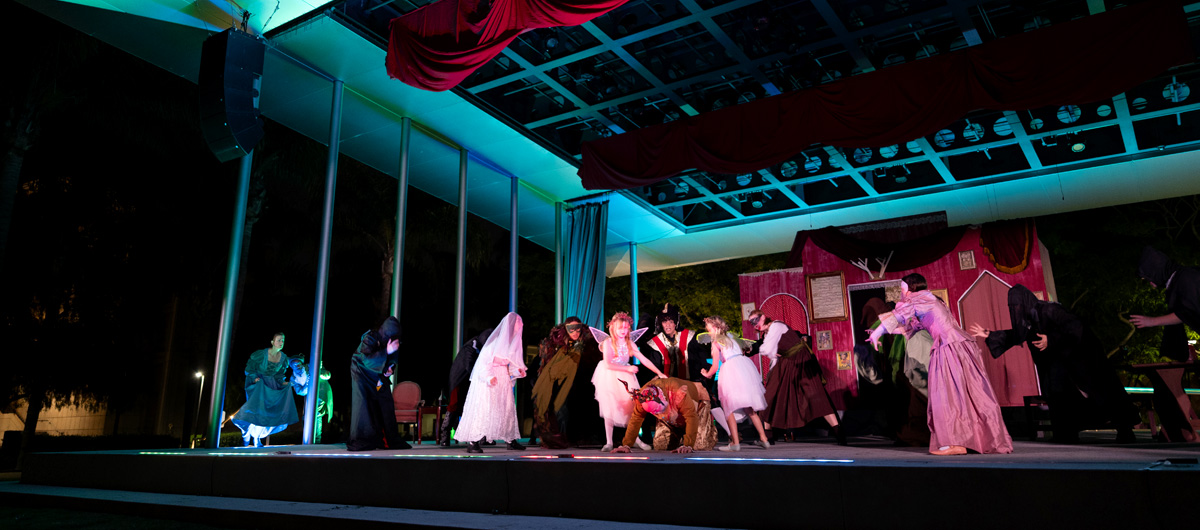 This classic Shakespeare comedy is about love, marriage, jealousy, lies and pranking. When Sir John Falstaff woos Mistress Ford and Mistress Page at the same time, they decide to outwit and humiliate him instead. And when three suitors seek the hand of Anne Page, she must also outwit her father to marry the man she loves. Silly, funny, and eminently entertaining.
Written by William Shakespeare
Directed by Nenad "Neno" Pervan
Presented on June 22–24, 2023, 8pm, Drollinger Family Stage
Cast
The House of Ford
Lacy Hornick as Mistress Ford
Réchard François as Ford, her husband
Stryder Larsen as John, their servant
The House of Page & Suitors
Jayme-Lynn Evans as Mistress Page
Sam Pribyl as Page, her husband
Paige Blosser as Anne, their daughter
Andrew Solari as Doctor Caius, a French doctor, suitor to Anne Page
Caroline Gillespie as Mistress Quickly, the doctor's housekeeper
Gabriella Papera as John Rugby, the doctor's manservant
Aristotle Vozaitis as Fenton, a gentleman, suitor to Anne Page
Gabe Legg as Robert Shallow, a visiting justice of the peace
Nick Trafton as Abraham Slender, his nephew
Iago Lashua as Simple, Slender's servant
Falstaff & Company
Kevin Wetmore as Sir John Falstaff, an impoverished knight
Mia Pervan as Robin, his page
Rachael DeBoer as Bardolph, Falstaff's servant & a tapster
Claire Voilleque as Pistol, Falstaff's servant
Mia Dawn Rehwaldt as Nym, Falstaff's servant
Joseph Bricker* as Host of the Garter Inn
Others
Dylan Marusich as Sir Hugh Evans, a Welsh parson
Aletheia Jackson, Cordelia Wetmore as Windsor Children, disguised as fairies
*Joseph Bricker appears through the courtesy of Actors' Equity Association, the Union of Professional Actors and Stage Managers in the United States
Maureen Beld serves as Swing/Host Understudy
Production Team
Technical Director Jason Sheppard
Assistant Directors Emmalyne Hvizdak & Ivy Musgrove
Assistant Stage Managers Quinn DeVries & Lis Gothelf
Assistant Set Designers Maureen Beld & Bailey Wertzberger
Assistant Costume Designer Noura Smith
Assistant Sound Designer Bailey Wertzberger
Technical Assistant Lucy McNulty
Technical Associate Niall Sulcer
Light Board Operator Noura Smith
Sound Board Operator Bailey Wertzberger
Running Crew Avery Abell
Special Thanks
Kate Shirley, Leon Wiebers, John Jackson, Kristina Justiniano, Kellie McDonald, Conferences & Events Services, President Timothy Snyder, Robert and Diane Ballantyne, Channing Lindsay, the CFA Council, Dean Bryant Keith Alexander, K3, and all our donors and supporters — you help keep Shakespeare free to the public and alive on the Bluff!