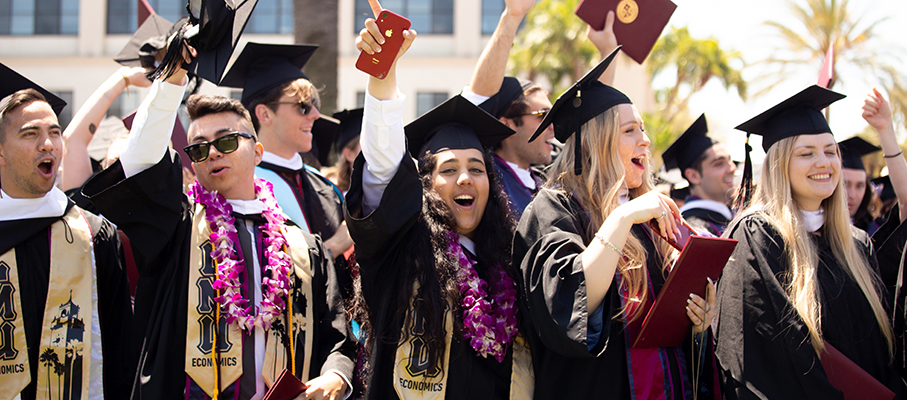 Congratulations Future Graduates!
This site will inform you about resources the college and the university provides to assist you as you move ever closer toward graduation. After you have met with your faculty advisor, you are encouraged to visit the AACSS to review your DegreeWorks Audit.
To ensure you are ready to apply for degree, refer to the following "Graduation Checklist". We also suggest that you log into MyLMU to review your official Degree Audit report via DegreeWorks to determine if your degree requirements have been met.
Graduation Checklist
| Degree Requirements | Done |
| --- | --- |
| Completion of minimum of 120 semester credits for Dance, Music, Studio Arts and Theatre Arts majors, minimum of 124 semester credits for Art History and Communication Studies majors | ☐ |
| Residency Requirement: 30 of the final 36 credits must be taken at LMU | ☐ |
| Completion of 45 upper division credits | ☐ |
| Must be in good academic standing (2.0 GPA) | ☐ |
| * All components of the and are complete | ☐ |
| All components of Major/minor/electives are complete | ☐ |
Steps to Graduation
Review your Degree Audit report to confirm that degree and program requirements are met. Items with a "NOT MET" status should alert you that you may not qualify to graduate and/or walk in May Commencement. It is your responsibility to read, understand, and comply with the degree requirements printed in the LMU Bulletin and to take action to address all outstanding issues before the degree-granting date.

Run a new Degree Audit report every semester before you meet with your advisor. Find your Degree Audit Report: "Systems Logins" tab of MyLMU under "DegreeWorks."

Check and clear all your university holds. A student's hold can be viewed on PROWL by selecting "View Holds" from the Registration menu. It is important that you contact the appropriate office to clear any holds.

Students inform LMU of their intent to graduate by submitting an application for degree; the University does not submit applications for students. All applicants file for degree in the term in which they qualify to graduate. Read more.

Apply for Degree

A degree application must be filed for a student to be considered eligible for degree. Degrees are conferred during the term that all coursework is completed. Students should apply for a degree for the term in which all requirements will be met. If you are unsure about which term to choose for your degree application, students are encouraged to meet with their advisors to ensure appropriate timing.

Application filing deadlines can be found on the Office of the Registrar's Graduation Services page.

Candidates for an undergraduate degree at Loyola Marymount University must complete all requirements for a bachelor's degree as set forth by the University, their college or school, and academic departments or programs. Failure to understand those requirements does not relieve a student of his or her responsibility. Read more.

If you will not be completing degree requirements during the current term but are interested in spring commencement, student should consult with academic advisor to resolve any outstanding degree requirements.

Outstanding credits - You are eligible to participate in spring commencement with no more than 30 semester hours remaining who can complete all degree requirements by the August or December 2017 semester without a unit overload in either summer session and/or the December term.

For information on spring commencement, visit the LMU Commencement website.
Are you ready to graduate? Visit the Office of the Registrar Graduation Services page to check!
Additional Resources
DegreeWorks: Degree Audit Report
Official Transcript Request