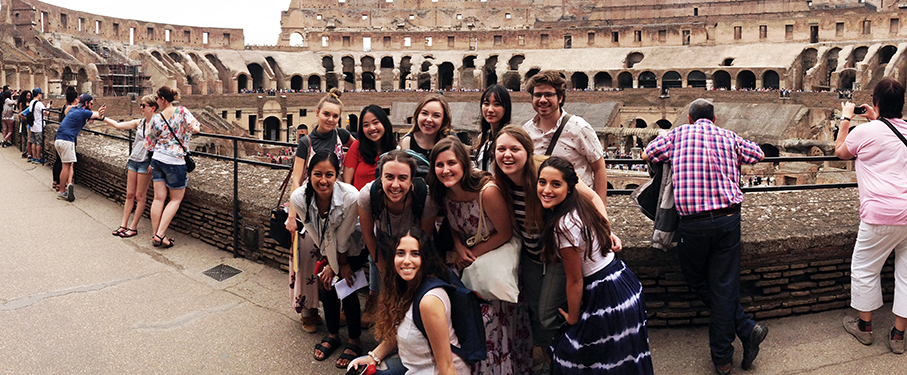 CFA's study abroad programs offer our students an incredible opportunity to travel to new countries, immersing them in new languages, cultures and experiences. The programs are all led by LMU faculty members, and allow students to engage directly with international historic and artistic sites, expanding both their knowledge and their world views. Our college is committed to continually developing new study abroad offerings, with several additional international programs currently being explored.
Not sure where to start? Visit or contact the CFA Academic Advisement Center and speak to one of our advisors!
Bonn/Moscow Theatre Program
This Spring semester program allows both Theatre Arts majors and minors to delve into the cities of Bonn, Berlin and Moscow, home to drama, comedies, and musicals. In association with the Moscow Art Theatre School (MXAT) and taught by European theatre experts and LMU faculty in the LMU tradition, students will learn the traditional Stanislavski acting methods and Brechtian Epic Theatre techniques, culminating with a performance at one of the many professional theatre venues in Bonn. In addition to a rigorous academic experience, students are also afforded the opportunity to participate in excursions to help them see the life of the cities themselves. The students begin their studies in Bonn at the Akadernie fur lnternationale Bildung and then travel to Russia to study with the master acting teachers at the acclaimed Moscow Art Theatre.
Students will not only gain and expand their experiences in theatre arts, but also learn the cultural influences of Russia and Germany. Students will live with an English-speaking German host family in Bonn and have the opportunity to truly integrate into German culture and live like Europeans, rather than merely visitors. This is a critical part of what this program offers and contributes to the transformative nature of the study abroad experience. This program will next be offered in Spring 2019.
Global Imagination in Amsterdam and Germany
The Global Imagination Summer Study Abroad is an interdisciplinary five-week program with a focused transformative learning experience through design thinking, creativity, strategic-insight and storytelling. An essential learning objective of the program is to foster self-awareness and personal development as a social design entrepreneur. The program will prepare students to connect with marginalized segments of society through empathetic and innovative solutions and interdisciplinary creative teams. The centerpiece of the Global Imagination Program consists of a Fusion Food Design Project. Student teams will be paired with an immigrant family in Bonn or refugees in Düsseldorf to co-create a cross-cultural food project relevant to the local market. Using Design Thinking methodology and cutting-edge marketing practices, students will gain real-world experience in product development, brand identity, packaging, and branded storytelling. Importantly, the project will benefit the immigrant families and the refugee community as well.
The College of Communication and Fine Arts and College of Business Administration faculty-led program includes accommodations for living and working in Bonn and Düsseldorf, as well as excursions to Berlin and Amsterdam. Students will be living with English-speaking German families to promote cultural immersion. In addition, there will be several day long excursions and museum visits, including a Rhine cruise and a visit to Cologne.
Christian Faith and Visual Culture in Rome
This Summer Session I program is an intensive and immersive interdisciplinary course offered to LMU students; the accelerated nature of the class allows students to have an experience abroad while still having time over the summer to work, do an internship or take additional courses. Professor of Art History, Kirstin Noreen, Ph.D. and Director of Catholic Studies and Campus Minister, Fr. Marc Reeves, lead the program, which examines the dialogue between theology and the artistic and architectural development of the Early Christian and medieval periods in Rome. Taught on-site in the streets, museums, churches and monuments of Rome, the summer course provides a direct engagement with culture, art, society and faith. Cross-listed in Art History (ARHS), European Studies (EURO), Catholic Studies (CATH), and Theological Studies (THST), the course fulfills Faith and Reason in the Integrations core area and an engaged learning flag. The course will next be offered in Summer Session I, 2019.
Semester in Bonn
The LMU Business, Arts and Communication Program offers a study abroad opportunity in Bonn, Germany in both the Fall and Spring semesters. Coordinated by the Akademie für Internationale Bildung (AIB), this program is ideal for students who wish to develop a broad knowledge of European history and politics. Open to all majors, the courses are designed to align with LMU's CORE courses and upper-division major requirements. The courses are flexible, ranging from business, theology, ethics, art, and history. This ensures that there will be opportunities that grasp and educate students on different levels, from learning about the workings of the European Union to art courses that teach about sustainability.
Students live for the entire semester with an English-speaking German host family and have the opportunity to truly integrate into German culture and live like Europeans, rather than merely visitors. This is a critical part of what this program offers and contributes to the transformative nature of the study abroad experience. All of the students also take a German language and culture course to help guide them throughout their experience.
Summer in Tuscany
With a focus on the arts of Florence, including Renaissance art and architecture, this summer program is an inspiring experience for art and art history majors and minors. During this four-week study, major works of Western art and architecture will be studied and explored, alongside the opportunity to create works of their own in the studio courses offered. In addition to the academic portion, students will have the ability to encounter historic and contemporary Italian culture, with the program based in Florence. Although the program is designed for art students, minors and non-majors are encouraged to apply as the courses help fulfill core requirements or electives.
Art Therapy in Mexico
One of the biggest draws to the Marital and Family Therapy Graduate program is its collaboration with the Instituto Allende in San Miguel de Allende, Mexico for the Art Therapy in Mexico program. This summer program is designed to broaden the experiences of LMU students with art therapy training in the arts, language and culture of Mexico. While obtaining a master's degree in Marital and Family Therapy at LMU, students are strongly encouraged to attend the summer program at which they are able to fulfill degree requirements and broaden their appreciation for Mexican culture. The intercultural learning is enriched by the inclusion of Mexican students participating in an LMU-sponsored certificate program in art therapy at the Universidad Iberoamericana.
A limited number of students currently enrolled in AATA-approved art therapy programs and who have finished at least one year of study are welcome to attend. We are offering a one week course in Family Art Therapy, a one week course in Multiculturalism and Art Therapy and a one week fieldwork experience. Students may enroll in one, two or all three of the classes but must enroll in the Multiculturalism class (second week) if they intend to join the fieldwork (third week). All our classes are structured to include dialogue between American and Mexican psychotherapists. This program is only offered to art therapy students who have completed at least their first year of coursework, with priority for students coming from LMU and the Mexican Institute of Art Paychotherapy (IMPA).